Getting ready for the best deals on premium CBD products throughout the year? The retail holiday season is about to begin! Show your loved ones that you care, or use the Black Friday sales to stock up with your favorite CBD supplements from Royal CBD. We've always seen Black Friday as an opportunity to promote health and wellness with natural products instead of searching for large discounts on a larger TV screen or a new sofa. The 2020 Black Friday CBD sales at Royal CBD are also a special moment for our company, as we're celebrating our third year in the industry.
Black Friday 2020 at Royal CBD will get you amazing CBD discounts and great deals on the entire Royal CBD collection. You will find awesome deals on our full-spectrum CBD oils, CBD edibles such as our tantalizing gummies, CBD capsules, and our best-selling topicals.
Make this year's Black Friday shopping event the best one yet with Royal CBD. We're going to help you with that by keeping you posted about exciting updates and sales leading up to the event. We all know the holiday starts before the actual Black Friday, so who knows what else our creative minds have brought up for you!
You don't have to wait until the Black Friday CBD sales to get great deals on CBD. At Royal CBD, we provide a lot of opportunities to save money on premium products, such as our Royalty program. By joining it, you can earn special crowns with each order, and later spend these crowns to pay less for your favorite products or try out something new. We also run regular discounts that make our products even more affordable.
If you've already stocked up your wellness cabinet with CBD oil, Black Friday is the perfect day to find amazing gift ideas on the best CBD products out there. You can use the Black Friday sale discounts to mix and match different products and create a unique hemp box out of our CBD oils, gummies, topicals, and capsules.
Everything You Need to Know About the 2020 Royal CBD Black Friday Sales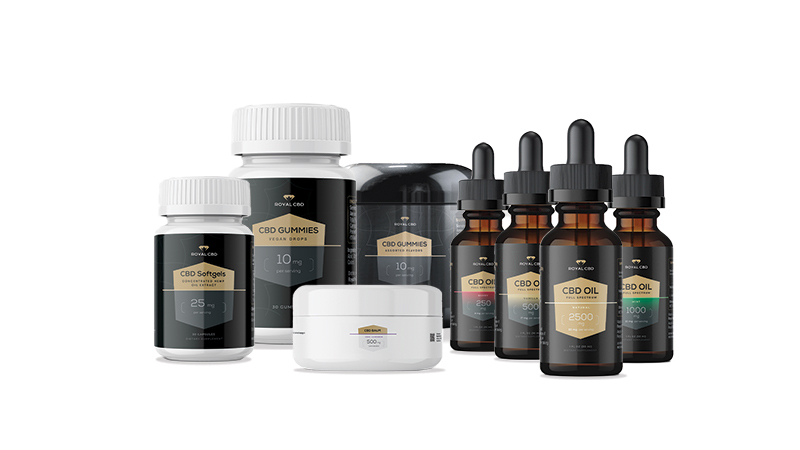 Use Code: BLACKFRIDAY2020 for 25% OFF | Expires: November 29th, 2020
What is Black Friday?
Black Friday is the largest retail holiday in the world right before Cyber Monday. During this time, companies are going above and beyond to meet the customer demand for large discounts on their favorite products. Black Friday CBD sales include special coupon codes that you can use to apply the savings to your cart's total. Most CBD brands offer a stock-wide discount on their products, meaning you're receiving a discount on your entire order, not just single items.
When does the 2020 Black Friday sale start at Royal CBD?
Black Friday sales begin on Friday following the Thanksgiving day. However, many companies decide to launch large sales even several days before the actual holiday. At Royal CBD, we follow the official schedule, but be sure to sign up for our newsletter and keep checking in for exciting updates and sales leading up to Black Friday.
What will be on sale during Black Friday?
The 2020 Black Friday sale will feature all of our top products, such as our full-spectrum CBD oil drops, soft gels, THC-free gummies, CBD warming balm, and menthol roll-on gel.
How do I use the 2020 Black Friday Discount at Royal CBD?
Use code [ ] at checkout to get [ ]% off the cart's total. Click the "apply" button and the savings will be added to your order's summary.
Can I combine the Black Friday coupon code with other discounts?
Usually not. Black Friday sales offer the best deals on CBD oil throughout the year, so we save other discounts for the post-holiday retail season.
What is your shipping policy for Black Friday?
We ship our products to all 50 U.S. states. Shipping is free and the orders usually arrive within 3–5 business days. We don't offer international shipping for now.
What is your return policy for Black Friday?
If you're having second thoughts about your purchase, we have a 30-day money-back guarantee for you. This means that you can return the product for a full refund if you decide it is not right for you. Items must be at least half full to qualify for a refund. All of our products contain a 30-days supply of the recommended serving size, meaning there's enough CBD to test the recommended dosage for two weeks to see if you're satisfied with the results. If you've almost used up the entire product, it won't be eligible for a refund or return.