If you're looking for information about the best places to buy CBD oil in Arizona, look no further because all you need is in this article.
CBD is gaining a large audience in the United States and around the world. People use it to treat a variety of symptoms, including anxiety, inflammation, insomnia, pain, and seizures.
Everybody can benefit from CBD, including children, elderly people, and even pets.
Cannabis — both hemp and marijuana — are part of a growing and continuously changing industry, with local laws shifting between different states.
This article will clear up any confusion around buying CBD in Arizona.
We'll cover the legal status of CBD by source, share our tips on finding a trusted CBD store, and point you to the best options of getting your hands on high-quality products in Arizona.
Is CBD Oil Legal in Arizona?
The laws surrounding CBD vary depending on where it comes from.
CBD can be extracted from hemp and marijuana. Marijuana has higher concentrations of THC, whereas hemp only comes with trace amounts of the psychoactive compound, showing higher levels of CBD.
In this section, we break down the current legal status of hemp and marijuana in Arizona.
Marijuana-derived CBD in Arizona
Federal law in the United States classifies marijuana as a Schedule 1 substance; this means that the penalties for marijuana possession are similar to those linked to heroin or LSD.
Being caught with less than 2 pounds of marijuana is considered a class 6 felony and carries a maximum sentence of 2 years in prison and a hefty fine of $150,000.
Long story short, you don't want to be caught with marijuana-derived CBD oil as a recreational user in Arizona.
Medical marijuana patients are in a slightly better situation, as medical marijuana has been legal in Arizona since 2010.
Qualifying conditions for a medical marijuana license include:
Cancer
HIV/AIDS
Glaucoma
Post-Traumatic Stress Disorder (PTSD)
Severe chronic pain
Nausea
If you suffer from one of the above conditions, you can apply for a medical marijuana license in Arizona. The cost is $150 per application, with the possibility of paying a reduced card fee of $75 if you're registered with SNAP (Supplemental Nutrition Assistance Program).
Can I Buy CBD Oil from Marijuana in Arizona?
No, medical marijuana patients can only buy marijuana flowers in Arizona, so if you know how to make CBD oil using home extraction methods, you can give it a try, although we don't recommend experimenting with cannabis extracts on your own. If you want to buy CBD oil in Arizona, you'll need to purchase a hemp-derived one.
The good news is that you can purchase up to 2.5 ounces every two weeks and grow up to 12 plants as long as there are no dispensaries nearby — approximately within 25 miles of your home.
Efforts to Legalize Marijuana in Arizona
Arizona voted to legalize marijuana for recreational use in November 2016, but the ballot ultimately failed due to 51% of voters saying no.
That was a close one, huh?
But as the 2020 elections are coming, legalization will be a hot topic for debate again.
Is Hemp-Derived CBD Legal in Arizona?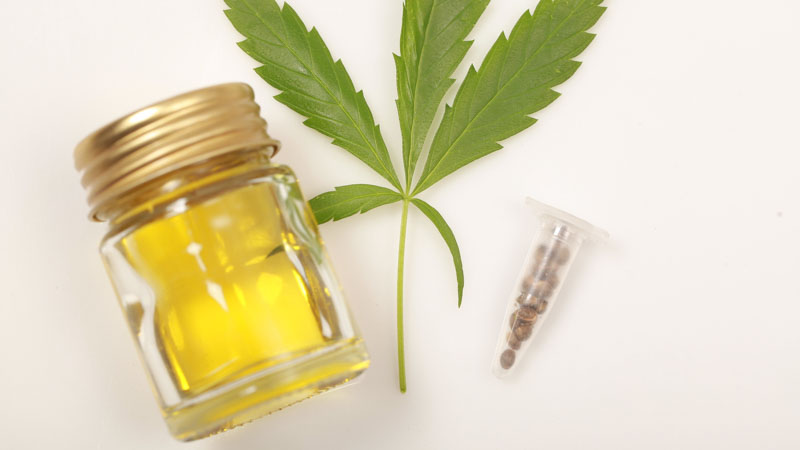 In 2018, the federal government legalized industrial hemp and removed it from the list of controlled substances. Before the new Farm Bill, hemp was classified in the same schedule as heroin and LSD. Hemp is now an agricultural crop and can be grown and processed for commercial purposes.
As with any federal law, individual states can either accept it or introduce their own regulations on the labeling and availability of CBD products.
Luckily, the Arizona government decided to fully adhere to the new law. Hemp-derived CBD is widely available across the state and online, from tinctures to capsules, edibles, vapes, topicals, and pet products.
The main difference between CBD oil from hemp and marijuana is its THC content. Marijuana-derived CBD oil is typically high in THC and thus can induce intoxication. Hemp-derived products contain only trace amounts of THC. Even full-spectrum CBD oil has less than 0.3% of THC per volume, which is the federally accepted concentration.
Where to Buy CBD Oil in Arizona: Best Deals & Buyer's Guide
With hemp being legal in Arizona, you shouldn't have problems finding the right CBD product for your particular situation.
There are two ways to access high-quality CBD products: you can buy them online or visit a physical store.
We usually recommend finding a trusted online shop. Below we explain the benefits of buying CBD oil online.
Order CBD Oil Online
The CBD market is booming and the variety of different CBD products is impressive, to say the least. From tinctures to capsules, vapes, and bath bombs, you simply can't run out of options when it comes to applying CBD.
However, it's difficult to find all these products in physical stores.
In fact, most in-store vendors offer one or two types of CBD — usually oil drops or vape liquid.
These products are also more expensive than those sold online because their price often covers operational costs such as rent and electricity bills.
Not to mention the risk of buying an untested and contaminated product that contains little to no CBD at all.
The above problems are nearly nonexistent when it comes to online stores.
Full Spectrum CBD Oil 1000mg

$149

$129

—

or subscribe and save

15%

Broad Spectrum CBD Gummies 25mg

$99

$79

—

or subscribe and save

15%

CBD Capsules 25mg (Softgels)

$99

$84

—

or subscribe and save

15%
Buying CBD oil online gives you access to the whole world of different products. You can compare different brands, formulas, and prices to get yourself the best form of CBD for your needs.
And since online stores have fewer operational costs, they often provide customers with discount coupons, seasonal deals, and loyalty programs where people can collect special points and spend them to save money on their next purchase.
It's also easier to do research on your potential vendor. The online CBD scene is highly competitive these days and brands are going above and beyond to prove their transparency. You can read their websites, check lab reports, and read reviews from other customers if you want to make a well thought out decision.
Tips for Buying CBD Oil Online in Arizona
Buying CBD online is almost always the fastest, safest, and least expensive option, but that doesn't mean that it doesn't have any pitfalls.
In fact, there are many companies taking advantage of uninformed customers and selling mislabelled products that sometimes contain solvent residue or pesticides due to poor manufacturing.
Here's how you can avoid such companies:
Always check if the company's products are approved by a third-party lab. Some products sold online (and locally) may contain much less CBD than advertised. Laboratories aim at testing the potency of the end product as well as its purity levels. A Certificate of Analysis from a third-party laboratory is a legitimate quality proof.
Choose CO2-extracted CBD. CO2 extraction is a heatless and solventless method that involves the use of pressurized carbon dioxide. This method provides the highest consistency in terms of potency and yields clean extracts.
Don't trust unrealistic claims about CBD. If something sounds too good to be true, then it's probably best to avoid it. CBD is a wonderful supplement but it's not going to give you a new life or erase all your health concerns in the blink of an eye.
Check the company's source of hemp. Hemp plants are able to absorb everything from the soil and air they grow in, so make sure that you always choose CBD from hemp cultivated organically by local farmers.
Following the above steps will help you weed out a lot of garbage and save both time and money on your purchases.
Now that you've learned about the important considerations for buying CBD in Arizona, it's time to explore your local options.
2. Local CBD Stores in Arizona
As mentioned, your best bet for getting high-quality CBD in Arizona is to find a trusted online store, but if you prefer to shop in-store, this section is for you
Arizona's laws support the local hemp market. There are plenty of physical stores selling CBD in the state. If you live near any of the shops listed below, you can pay them a visit and see if they have the products that you're looking for.
Best CBD Stores in Phoenix
The Phoenix Dispensary
azWHOLEistic
Encanto Green Cross Dispensary
Best CBD Stores in Scottsdale
Level Up
TruMed Dispensary
Scottsdale Dispensary
Best CBD Stores in Mesa
GreenPHARMS Dispensary
Nova Dispensary
Kind Meds
If you don't see your city on this list, don't be afraid to shop for your CBD online. There are many helpful websites to answer your questions about CBD.
Key Takeaways on Buying CBD Oil in Arizona
Arizona law makes it possible for CBD consumers to buy hemp-derived products in local dispensaries and health stores. There are hundreds of options out there, so it can be overwhelming to choose a product that will work best for your situation.
When looking for CBD oil in Arizona, always do your research and make sure your products come from a trusted source with a well-established reputation among CBD users. In our experience, the most convenient way to buy high-quality CBD at reasonable prices is through online stores.
Although dispensaries in Arizona are popping up every month, CBD is a new industry that is yet to be regulated to help consumers separate fake oils from craft products that actually work.