Alaska is one of the most liberal states when it comes to cannabis laws. Alaskan voters approved medical marijuana in 1998, and 16 years later, the state passed Ballot Measure 2, legalizing recreational use of cannabis.
In 2018, President Trump signed the amended Farm Bill, removing hemp from Schedule I of the Controlled Substances Act.
According to the new bill, hemp is now an agricultural commodity. It's now legal to grow and sell hemp and hemp-derived products in all 50 states.
As with many federal laws, individual states can either adapt to the new bill or place their own restrictions on hemp.
Fortunately, Alaska has welcomed the new Farm Bill with open arms.
In this guide, we'll share the ins and outs of the Alaska cannabis laws. We'll also point you in the right direction for finding high-quality products in the states and highlight the benefits of buying CBD online.
Let's start with the current legal status of CBD in Alaska
Is CBD Oil Legal in Alaska?
Yes! In fact, all forms of cannabis are legal in Alaska, including hemp-derived and marijuana-derived CBD.
In this section, we explain the differences between the two sources of CBD products.
Marijuana CBD Oil in Alaska
Alaska was one of the first states that legalized medical marijuana (1998). In November 2014, the Alaskan government passed Ballot Measure 2, creating a legal framework for the recreational market. The law has also introduced taxes on marijuana at a wholesale rate of $50 per one ounce of dried flower.
Before Ballot Measure 2, the only way to acquire marijuana-derived CBD oil was to get a medical marijuana card and purchase your products from a medical dispensary.
Today, all adults aged 21 and up can buy marijuana from state-licensed retail stores. You can legally purchase up to 1 ounce of weed per transaction and grow up to 25 plants per household as part of the Alaska Constitution's right to privacy.
Although Alaskan residents no longer need a prescription from a doctor, being a patient offers a few perks such as higher possession limits, access to more cannabis-infused products, and lower sale taxes.
Hemp-derived CBD Oil in Alaska
Due to the changes made in the 2018 Farm Bill, hemp was reclassified from the schedule I substance to an agricultural commodity.
It's now legal to grow, process, and sell hemp and hemp-derived products on the federal level. However, the Food and Drug Administration (FDA), as well as individual states, can regulate CBD labeling and its availability within their jurisdiction.
Alaska has already allowed local farmers and manufacturers to grow and process hemp, but they have yet to finalize it as the law. The cultivation and processing will be supervised by The Department of Natural Resources.
Currently, the only CBD products available in-store are the ones imported from other states.
This brings us to the next section: how and where to buy high-quality CBD in Alaska
Where to Buy CBD Oil in Alaska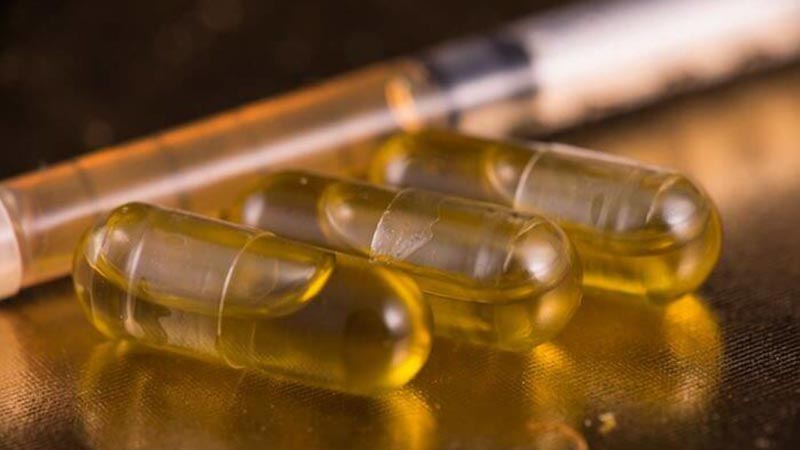 The easiest way to find high-quality CBD in Alaska is to purchase from a reliable online store. As mentioned, the local availability of CBD oil leaves a lot to be desired until the new law goes into effect. The product choice is very limited.
Here's why we recommend buying CBD online
Online Stores: the Easiest Way to Find High-Quality CBD in Alaska
Although buying CBD oil from local stores in Alaska sounds like a convenient option, it can be a risky business considering the latest warnings from the DNR about mislabeled and untested CBD products flooding the market.
Most CBD transactions are made online these days. What gives online stores an advantage over in-store vendors is a wider range of products to choose from. CBD is available in many different formats, including tinctures, capsules, edibles, vapes, topicals, and even pet products. All of them are easily available online. You won't find such diversity in the local market.
Full Spectrum CBD Oil 1000mg

$149

$129

—

or subscribe and save

15%

Broad Spectrum CBD Gummies 25mg

$99

$79

—

or subscribe and save

15%

CBD Capsules 25mg (Softgels)

$99

$84

—

or subscribe and save

15%
Another point in favor of online stores is the number of ways in which they let you save money on your purchases. Since selling CBD online doesn't require a physical storefront, companies can give their customers regular discounts or seasonal deals, or even create loyalty programs where people can exchange their loyalty points on larger discounts for particular products.
It's also easier to research any CBD company before committing to their products. You can do things like checking the brand's website, reading the lab reports of its products to verify their potency and purity, or reading reviews from other customers.
Recommended CBD Stores in Alaska
Although we recommend buying CBD oil online — especially before Alaska puts its new hemp law in order — there are a few physical stores that offer high-quality CBD in the form of supplements, edibles, and topical products.
Here are a few noteworthy places that sell CBD oil in Alaska:
Best CBD Stores in Anchorage
Really Neat Stuff
Scarab Industries
Cold Vapes 907
Best CBD Stores in Juneau
Global Vapors
Zootz Alor
Best CBD Stores in Wasilla
Good Glass
Green Jar
Tips for Buying CBD in Alaska
Always buy from companies that use locally grown organic hemp as their course of CBD
Choose CO2-extracted products. CO2 is the most effective extraction method that operates without heat and solvents.
If you're not tested for THC at work, we recommend full-spectrum products over CBD isolates. Full-spectrum CBD contains all the natural compounds from hemp, which scientists believe to create a synergy that boosts their therapeutic properties.
Never trust a company that doesn't show lab reports from third-party testing. A Certificate of Analysis from a laboratory is the legitimate proof of quality that ensures your product contains the advertised amount of CBD and is free of any contaminants
Look for companies with clear shipping & return policies. Companies that are confident about the quality of their products offer money-back guarantee programs that allow for a full refund if the user is not satisfied with the results.
Buying CBD Oil in Alaska: How to Read Labels
Manufacturers and retailers aren't allowed to make medical claims about CBD products because cannabidiol derived from hemp isn't an acknowledged medicine.
High-quality CBD products should include what type of CBD has been used — whether it's a full-spectrum CBD, broad-spectrum CBD, or isolate.
You should also pay attention to the following details:
The total amount of CBD + per serving
Supplement facts
Net weight
Suggested use
Batch or date code
Company's name
Key Takeaways on Buying CBD in Alaska
Alaska has one of the most relaxed cannabis laws in the United States. Adults aged 21 or older can legally consume cannabis and buy it from state-licensed dispensaries if they show a valid ID.
Hemp-derived CBD is legal in Alaska as well as in all 50 states under the 2018 Farm Bill, which removed hemp from the list of controlled substances. CBD products are widely available in physical shops and online stores.
If you want to buy CBD oil locally in Alaska, your options are limited because the state is yet to set out a framework for growing and manufacturing hemp by local companies. Currently, you can only buy products imported from other states.
Your best bet for getting high-quality CBD in Alaska is to find a trusted online store that sells CO2-extracted CBD from organic hemp and can prove the potency and purity of its products with a Certificate of Analysis from a third-party laboratory.
Last but not least, be sure to stay away from sketchy companies that make unrealistic claims about CBD or use buzz marketing instead of facts when selling their products. The market is full of fly-by-night businesses trying to take advantage of new customers who don't know much about the quality of CBD oil. Being an informed customer allows you to easily detect such companies.