The history of cooking with cannabis dates as far back as the 10th century India, where people have been using a mixture of ground cannabis flowers and milk (Bhang) for spiritual purposes.
Similar recipes were discovered in Italy from the renaissance period, but it wasn't until the second half of the 20th century that the popularity of cooking with the herb exploded, with all these magic brownies, lollipops, chocolate bars, salad dressings, and other crazy recipes.
Cannabis is a food-friendly herb that can spice up your cooking experience and add a plethora of health benefits to your nutrition regime, so it's no wonder why people have adopted this activity with so much enthusiasm.
However, cooking with CBD oil is a relatively new phenomenon.
In this article, we've prepared a list of our favorite CBD-infused recipes, both savory and sweet.
You will also learn:
Why you should cook with full-spectrum CBD oil and 99% pure isolate
What decarboxylation is and why it matters in cooking with CBD oil
What to avoid when cooking with CBD oil
Ladies and gentlemen, please, pull out your aprons!
12 Savory & Sweet CBD Recipes
Making your own CBD recipes is easy and simple, especially when you're using the already decarboxylated CBD from full-spectrum extracts or isolates.
All you need to do is "follow the goddamn recipe, CJ!"  — sorry, we couldn't miss the opportunity to paraphrase this legendary quote from Grand Theft Auto.
If you're just getting started with cooking recipes with CBD oil, we suggest that you make smaller batches at first. You know how it is, aspiring cooks often end up wasting their ingredients because they fail to recreate the recipe, and CBD oil is an expensive ingredient.
Better safe than sorry, as they say.
So, without further ado, have a look at these mouthwatering CBD-infused recipes and enjoy your next cooking session.
1. CBD-Infused Guacamole

Mexican cuisine is popular for its notoriously delicious and flavorful condiments, but guacamole is hands down the El Jefe of all dips used for side and main dishes. The main ingredient, avocado, consists mostly of fats, which makes for a perfect base to infuse your CBD oil into.
Not to mention it's gluten-free and vegan-friendly.
* By: Creating Better Days
Ingredients:
3 medium ripe avocados, peeled, halved, and seeded
1 tbsp lime juice
½ tsp kosher salt
½ tsp ground cumin
¼ tsp ground cayenne pepper
½ medium onion, finely diced
2 small tomatoes, seeded and diced
1 large garlic clove, minced
1 tbsp fresh cilantro leaves, chopped
½ jalapeno pepper, finely chopped
1 mL of Royal CBD Full Spectrum CBD Oil
Instructions:
Place the avocados in a mortar or bowl and mash them with a fork or pestle.
Add the salt, cumin, garlic, cayenne pepper, cilantro, onion, jalapeno, tomatoes, and lime juice. Top the mixture with your full-spectrum CBD oil and stir to combine.
Cover the bowl with plastic wrap and let the guacamole sit at room temperature for 2 hours before serving.
2. Grilled Apricot, Watermelon & Arugula CBD Summer Salad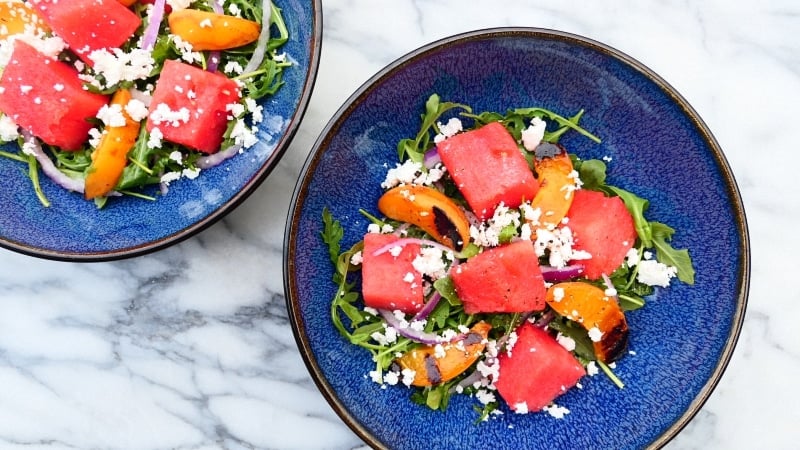 Image Credit: The Herb Somm
This recipe is perfect for summer heat waves when we crave for fresh fruits and veggies. The best way to indulge in those ingredients is to turn them into a refreshing summer salad.
Since most of us don't want to spend hours in the kitchen in the full sun, this recipe is not only delicious but also effortless. It uses 99% pure CBD isolate powder to create an almost instantaneous and delicious salad dressing.
* By: The Herb Somm
Ingredients:
Salad:
4 cups arugula
½ medium watermelon, cubed
2-3 small-sized apricots, sliced into sixths
¼ red onion, chopped
A handful of mint leaves, chopped
2 tbsp Feta cheese
CBD-infused honey balsamic dressing:
¼ cup honey
½ cup balsamic vinegar
¼ cup extra virgin olive oil (cold-pressed)
0.25 grams 99% pure CBD isolate powder
Himalayan salt and black pepper to taste
Instructions:
Preheat a grill pan over medium heat.
Brush the rinsed and sliced apricots lightly with olive oil and place them on a grill pan.
Cook for 1–2 per side just enough to caramelize the apricots. Remove from heat and set aside.
Place the watermelon, mint and onion in a bowl and set aside as well.
For the vinegar, whisk together balsamic vinegar, olive oil, and honey along with 0.25 grams of the isolate powder. Mix until well combined and season with salt and pepper.
Grab a salad bowl and add the arugula, mint, and red onion. Pour the desired amount of dressing to the bowl and toss well. You can use a tablespoon to measure out the dressing.
Transfer the salad to plates and top with grilled apricots, cubed watermelon, and a sprinkle of feta cheese. Season with salt and pepper to taste.
3. CBD Pesto Pasta With Spicy Shrimp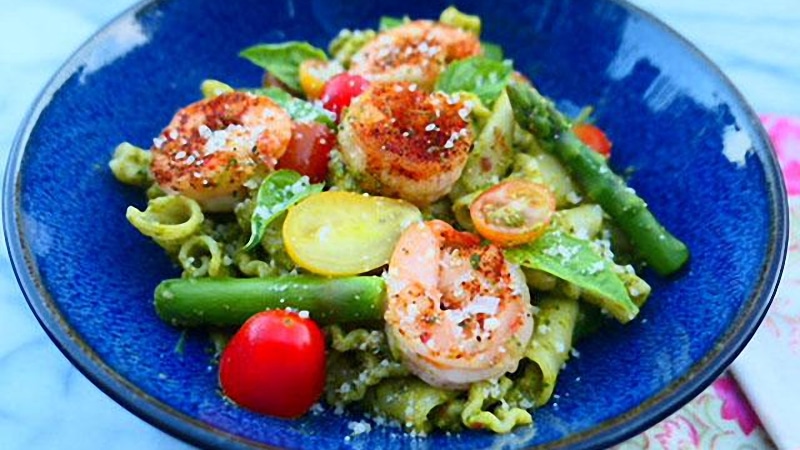 Image Credit: The Herb Somm
If you're a fan of pasta and seafood, this recipe will help you get the best of both worlds. It's a healthy, delicious, and refreshing meal that combines lots of healthy unsaturated fats, high-quality proteins, complex carbs,  and some killer CBD-infused green pesto.
* By: The Herb Somm
Ingredients:
CBD Raw Pesto:
½ cup fresh parsley
½ cup cherry tomatoes
1 tbsp pine nuts
2 medium garlic cloves
2 tbsp olive oil
4 tsp Royal CBD 500mg Full-Spectrum CBD Oil
A pinch of salt and black pepper to taste
Shrimp Pasta:
8 oz uncooked penne pasta
1 lb asparagus, cut into 2-inch pieces
1-2 cherry tomatoes, halved
2 tbsp butter
1 tbsp olive oil
1 tbsp lemon juice
1 tsp red pepper flakes
1 tsp cayenne pepper
Salt and black pepper to taste
Instructions:
For the pesto: rinse off the leafy greens under cold water and place all the pesto ingredients in a food processor. Blend until the pesto becomes a smooth sauce.
Scoop the pesto sauce with a spoon and transfer it to a small bowl. Cover with plastic wrap and store in the refrigerator.
For the shrimp pasta: in a large pot, boil water over medium heat and add the uncooked penne pasta. Cook according to package directions.
Grab a large saucepan and heat butter along with olive oil over medium heat until fully melted.
Dip both sides of the shrimp in the previously ground red pepper flakes, cayenne pepper, salt, and black pepper before adding them to the pan. Once added, squeeze in the lemon juice and cook until the shrimp turns pink on each side.
Wash the asparagus and cut into 2-inch blocks. Add the asparagus to the pasta for the last 3 minutes of cooking time. Drain and set aside.
Once your shrimp have been thoroughly cooked, add the pasta and asparagus to the pan. Saute for about a minute and remove from heat.
Mix in 6–8 tablespoons of pesto. Add cherry tomatoes, fresh basil leaves, and top the meal with shaved Parmesan cheese.
4. CBD-infused Parmesan Mashed Potatoes

Trying to convince your grandma to add a little twist to her regular Thanksgiving mashed potatoes? Here's a smart tip: give her some CBD isolate powder and introduce her to this recipe — we guarantee this year's Thanksgiving feast will be a hit!
Ingredients:
8 cups of pre-made mashed potatoes
2 tbsp unsalted butter
¼ cup whipping cream
¼ cup parmesan cheese (we prefer the original Parmigiano Reggiano)
2 tsp each salt and pepper
0.16g CBD isolate powder
Instructions:
In a bowl of a stand mixer, combine the mashed potatoes with butter, whipping cream, parmesan cheese, salt, pepper, and CBD isolate.
Whip all the ingredients until pureed.
Transfer the potato puree to a medium casserole dish, spraying it with non-stick spray beforehand.
Top the mashed potatoes evenly with parmesan cheese and bake at 400F.
Allow the potatoes to cool off a bit before serving.
5. Slow Cooker Mozzarella-stuffed CBD Meatballs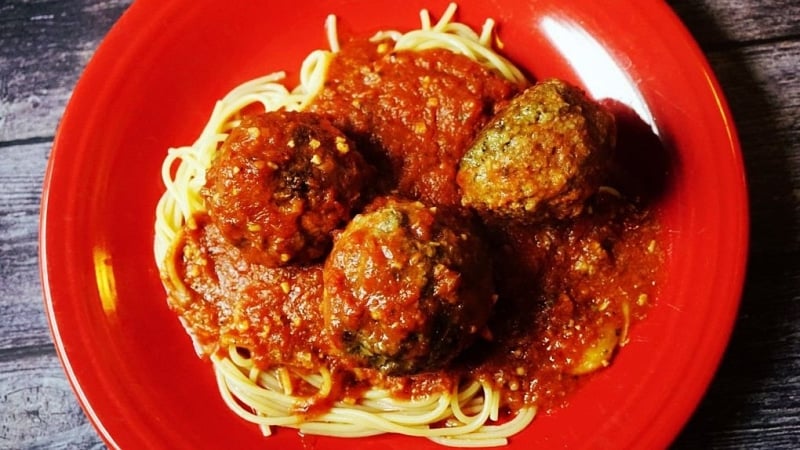 Image Credit: Give It A Whirl Girl
This one is our favorite recipes when it comes to CBD-infused comfort food. Loaded with mozzarella and full of flavor, this hearty dish will satisfy every meat lover who wants to draw upon the benefits of CBD isolate while pleasing their tummies and delivering a nice amount of complex protein.
Ingredients:
Sauce:
7 cups tomato pulp
⅓ cup onion, finely chopped
2 garlic cloves, minced
2 tsp dried basil
1 tsp dried oregano
½ tsp pepper
½ tsp salt
Meatballs:
1 lb ground beef (lean)
1 lb spicy Italian sausage
1 cup panko breadcrumbs
⅓ cup onion, finely chopped
1 tsp garlic powder
1 tsp onion powder
1 tsp dried thyme
1 tsp dried oregano
½ tsp salt
½ tsp pepper
2 large eggs
4 mozzarella cheese sticks, divided into 4-5 even pieces
Instructions:
Place all the sauce ingredients in the slow cooker and stir to combine
Set the slow cooker to high and cover until your done preparing the meatballs (30 minutes should suffice).
Mix all meatball ingredients excluding the mozzarella in a large bowl. Using your hands, work with the mass as if you were making pizza dough.
Take a golf ball-sized piece of the beef mixture and place a piece of mozzarella in the center.
Press the beef around the mozzarella piece until fully enclosed. Repeat until you run out of meat.
Transfer the meatballs into the slow cooker and immerse in the sauce. Cover and continue cooking on high for up to 2 ½ hours.
6. CBD-infused Steak & Veggie Buddha Bowl

Looking for a healthier way to consume your meat for dinner? This indulgent recipe is easy to cook, and the CBD-infused steak and veggie buddha bowl is an invaluable source of protein enriched with pure CBD isolate.
Ingredients:
Steak:
Rib Eye steak, cooked to your preferred doneness
Veggies:
½ red onion, cut into wedges
1 large sweet potato, cubed
230g broccoli, chopped (stems removed)
2 handfuls of kale (stems removed)
2 tbsp olive oil
¼ tsp salt
¼ tsp pepper
Chickpeas:
1 can (425g) chickpeas, drained, rinsed, and patted dry
1 tsp cumin
1 tsp powdered chili
½ tsp garlic powder
¼ tsp salt
¼ tsp pepper
Tahini Sauce:
60g tahini
1 tbsp agave
Juice of ½ lime
3 tbsp hot water
0.2g CBD isolate powder
Instructions:
Preheat the oven to 400 degrees.
Lay a bare baking sheet with sweet potatoes and onions.
Add a bit of olive oil and make sure all veggies are well coated.
Roast for 8–10 minutes
While the veggies are sitting in the oven, heat a large heavy-bottom skillet over medium heat. In the meantime, toss the chickpeas with seasonings in a mixing bowl.
Once the skillet is hot, add 1 tbsp of olive and chickpeas and saute, stirring constantly. Cook for about 10 minutes and set aside.
Take the veggies from the oven after 8–10 minutes, flip sweet potatoes on the other side and add broccoli. Bake for another 10 minutes.
Remove the vegetables from the oven and add kale. Drizzle the kale with olive oil and season with salt and pepper. Bake for 5 minutes then set aside.
Serve your steak on a plate, add the vegetables, and top with chickpeas and tahini sauce. Enjoy your meal!
For the sauce: Add tahini, lemon juice, agave, and CBD isolate to a mixing bowl and whisk to combine. Set aside.
7. CBD Paleo Chocolate Chip Cookie Bars.

Starting our list of sweet CBD recipes, these classic cookies use CBD-infused coconut oil instead of straight CBD oil. On top of that, all of the ingredients are gluten-free because the recipe calls for grain-free flours. The almond butter is a great flavor carrier for these cookies, not to mention the very dark chocolate that makes this recipe even more Paleo-friendly.
* By: Kale Junkie
Ingredients:
 ½ cup almond butter
½ cup coconut sugar
90mL melted CBD coconut oil
1 cup almond flour
1 tbsp coconut flour
1 tsp cinnamon powder
1 tsp vanilla bean paste
1 large egg
1 tsp baking soda
¾ cup dark chocolate chips
Instructions:
Preheat your oven to 350F
Line an 8×8 baking sheet with non-stick parchment paper. You may want to spay the pan prior to using the paper so that it sticks to the pan.
Mix all of the ingredients in a large bowl.
Gently fold in the chocolate chips using a wooden or silicone spatula.
Bake for 20-25.
Take your cookie bars out of the oven and let them cool off to room temperature. Divide them into several pieces according to your liking.
8. Cookies & Cream CBD Cheesecake Bites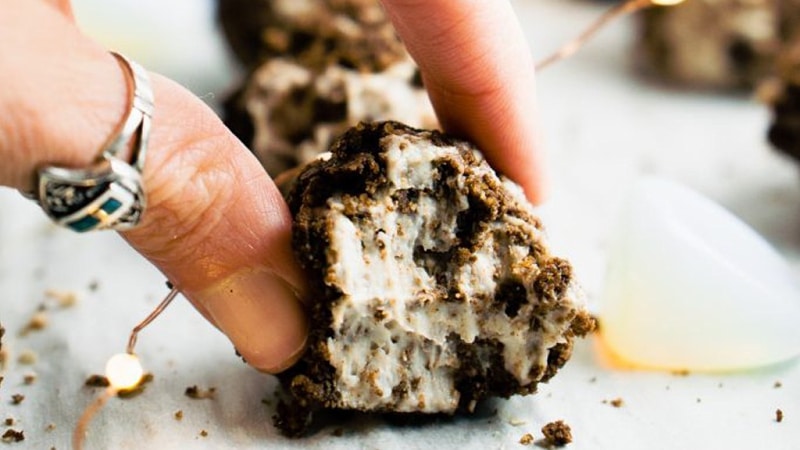 Image Credit: My Tiny Laguna Kitchen
Do we have any cheesecake aficionados out there? Good, because this sugar-free CBD oil recipe is, at the same time, a truly tantalizing dessert. It gets creamy texture thanks to the combination of cream cheese and almond milk, and a cookie crunch from cacao and almond mixture.
* By: My Tiny Laguna Kitchen
Ingredients:
Cookie Base:
½ cup almond flour
4 tbsp cocoa powder (unsweetened)
½ tsp Vanilla extract
1 tsp baking powder
1 egg (beaten)
1 tbsp coconut oil or clarified butter
Cream Cheese Filling:
½ cup almond butter
1 cup cream cheese
¼ tsp vanilla extract
Pinch of vanilla bean paste
5 full droppers of CBD oil
Instructions:
For the dough: Preheat the oven to 300 F.
In a medium bowl, combine the almond flour, cocoa, vanilla extract, salt, and baking powder. Add the egg along with coconut oil and stir well until combined.
Scoop out the cookies and place each piece on a prepared sheet of parchment paper. They should be about 1–2 inches wide when pressed down.
Bake the cookies in the oven for 12–15 minutes or until they get crispy.
Let the cookies cool down to room temperature. They will crisp up as they lose the heat, so don't panic if they are softer at the beginning.
For the filling: Combine all the ingredients in the bowl of a stand mixer and mix until smooth.
Fold in half of the crumbled cookies and stir until well incorporated.
Scoop out one ball of the cheesecake filling and empty the scoop right on top of the remaining cookie crumbles. Roll to make sure the cream cheese mass is covered in the cookies.
Move your cheesecake bites to the freezer (or fridge if you don't mind waiting a bit longer). Serve cold.
9. Pumpkin Spice Latte Loaf with CBD Icing

We've got a drool-worthy treat for all our nuts- and seed-free CBD users. This CBD-infused recipe is paleo and gluten-free, and it uses delicious CBD icing instead of altering CBD oil by baking it into this delicious pumpkin loaf.
* By: Lil Sipper
Ingredients:
The loaf:
1 tbsp apple cider
1 tsp baking soda
4 medium eggs
1 cup pumpkin puree
½ cup yuca-root flour
1 tsp espresso powder
1 tsp pumpkin pie spice
CBD sugar-free icing:
1 tbsp CBD coconut oil
¼ cup coconut butter
Instructions:
Preheat the oven to 350F
Combine the apple cider with baking soda in a bowl and let the mixture fizz. Stir in eggs and mix with a stand mixer until peaks form.
Mix in the remaining ingredients until well combined.
Line a bread loaf pan with parchment paper and pour the prepared batter into the dish.
Bake for about 30 minutes. Allow the loaf to cool in the freezer for 30 minutes.
 For the icing: melt the coconut butter with the CBD coconut oil over low heat until combined and pour over the loaf.
10. CBD Chocolate Latte

This drink is an amazing alternative to coffee for those who are already naturally stimulated during the day. It combines unsweetened milk with raw cocoa powder and full-spectrum CBD oil for a warm treat that delivers all the benefits of CBD to your body. The recipe allows the user to stay Bulletproof thanks to the use of non-GMO erythritol.
* By: Mind Body Green
Ingredients:
1 cup unsweetened milk (you can use plant-based milk if you want)
1 tbsp raw cacao powder
1 tbsp maple syrup
1 tsp vanilla extract
Pinch of Himalayan salt
Your favorite flavorings (e.g. mint, cinnamon, cayenne, culinary lavender, or rose water)
1 full dropper of Royal CBD 500mg Full Spectrum CBD Oil
Instructions:
Place all ingredients (except CBD) in a small pot.
Bring to simmer over medium heat and whisk vigorously to prevent any clumps.
Once done, remove from the heat and mix in your CBD oil.
Photo Credit: Mr. Food
11. CBD Whipped Cream
Who doesn't like a dollop of CBD-infused whipped cream added to their Thanksgiving desserts? Even if Thanksgiving isn't your favorite holiday, you can indulge in this sinful whipped cream with any dessert you like. You can even dip strawberries and other fruits in it — it's up to you!
Ingredients:
2 cups whipping cream
2 tsp vanilla extract
¼ cup white sugar (or icing sugar)
0.33g CBD isolate powder
Instructions:
Grab a large mixing bowl and place it in a freezer for 20 minutes so the dish chills.
Once cold, remove the bowl from the freezer and add whipping cream, sugar, vanilla extract, and your CBD isolate powder.
Whip the ingredients on high speed using an electric hand mixer and lower the speed as the mixture thickens. Make sure not to over whip it, as you may end up with CBD-infused sweet butter (it doesn't sound tasty, does it?)
Serve over your favorite desserts.
Photo Credit: Bulletproof
12. CBD Chocolate Coconut Fat Bombs
Take a couple of deep breaths because your eyes are going to pop once you try these delicious CBD-infused coconut fat bombs. Easy to make and a bit more difficult to deny, they are the perfect way to make you feel satisfied until your next meal.
* By: Bulletproof
Ingredients:
20mg of CBD oil (about 2 full droppers)
½ cup coconut butter
½ cup coconut oil
½ cup raw cocoa powder
1 teaspoon honey
Instructions:
Place a saucepan over low heat and melt the coconut oil until fully liquified. Whisk in the cocoa powder until all lumps are gone. Add the honey and stir again until well combined.
Evenly pour the cocoa mixture into 6 cups of a silicone muffin pan. Transfer the batter to the refrigerator for about 30 minutes or until the batter becomes firm.
In another saucepan, melt the coconut butter. Remove from the heat and whisk in CBD oil.
Take out the muffin mold from the refrigerator and add the coconut butter mixture on the top of each cup. Refrigerate for another 30 hours or until everything solidifies.
Store the fat bombs in the refrigerator.
A Final Word on Cooking With CBD Oil
Making CBD-infused recipes at home is a fun and very rewarding way to deliver precious cannabinoids into your system. If you need your CBD to release at a slower pace than when you vape it or use it sublingually — and keep you ailment-free for the whole day — CBD edibles are the way to go.
Contrary to marijuana edibles, CBD infusions won't make you high as their THC content is below 0.3% — the amount that's insufficient to produce ANY psychoactive effect, let alone the strong high associated with marijuana.
We hope our list of CBD recipes has helped you figure out your cooking plan for the next week. Enjoy your daily dose of cannabidiol in hearty meals and delicious treats, and let us know in the comments if you've ever tried to cook with CBD oil.