If you're looking for the best options to buy CBD oil in Connecticut, this article has covered everything you need to know.
Although not all forms of cannabis are legal in Connecticut, the state has rather forward-thinking policies and its hemp CBD market seems to be joining the leading states such as California, Florida, or Colorado.
With that said, it's always a good idea to keep up with the local law because cannabis regulations are continuously changing.
As mentioned, Connecticut is pretty liberal towards cannabis, so it won't take us long to cover the state's legal framework for different types of CBD.
We'll also point you to the best places where you can buy quality CBD products and explain the benefits of shopping for cannabidiol online.
Is CBD Oil Legal in Connecticut?
The legal status of CBD oil in Connecticut depends on its source.
CBD is found in marijuana and hemp plants, and these two are regulated by different laws.
Despite its progressive stance on medical marijuana, Connecticut has yet to legalize its recreational use.
In this section, we explain the legal intricacies around both sources of CBD.
The legality of Marijuana-Derived CBD in Connecticut
Marijuana remains illegal on the Federal level, although individual states have the right to regulate it within their own jurisdiction. As of today, 11 states have legalized marijuana for recreational use and 33 states have a medical marijuana program.
In Connecticut, you can't use marijuana recreationally. However, the state decriminalized possession of small amounts (less than ½ oz.) in 2011. Being caught with smaller quantities results in a small fine of $150 provided that it's your first offense.
If you have more than half an ounce in Connecticut and you're caught by the police, you could face up to one year in prison and a fine of $1000.
Additionally, it's illegal to sell or grow marijuana at home. Growing marijuana is considered a felony, resulting in 5 – 15 years in prison, which is far from nice for a few plants.
What About CBD Oil from Medical Marijuana? Is it Illegal in Connecticut?
In 2012, Connecticut legalized medical marijuana, becoming the 17th state to provide patients with a dedicated medical marijuana program. This program allows patients to use CBD oils with a THC content higher than the federally accepted 0.3%.
If you want to apply for a medical marijuana card in Connecticut, you must meet the following conditions:
Be at least 18 years of age
Be a Connecticut resident
Get a prescription from a Connecticut-licensed physician
Connecticut also has a very broad list of qualifying medical conditions, including:
Arthritis
Amyotrophic Lateral Sclerosis
Cancer
Cachexia or wasting syndrome
Cerebral Palsy
Complex Regional Pain Syndrome
Crohn's disease
Cystic Fibrosis
Epilepsy
Hydrocephalus
Irreversible spinal cord injury
Intractable headache syndromes
Muscular Dystrophy
Neuropathic Pain
Osteogenesis Imperfecta
Post Herpetic Neuralgia
Post laminectomy syndrome with chronic radiculopathy
Post-Traumatic Stress Disorder (PTSD)
Severe Psoriasis
Spasticity or neuropathic pain
Terminal illness requiring end-of-life care
Ulcerative Colitis
Uncontrolled intractable seizure disorder
If you fit all the criteria, you may apply for a medical marijuana license in Connecticut, which enables you to buy marijuana-derived CBD oil from one of the state-licensed medical dispensaries.
How is hemp-derived CBD oil regulated in all of this?
Is CBD from Hemp Legal in Connecticut?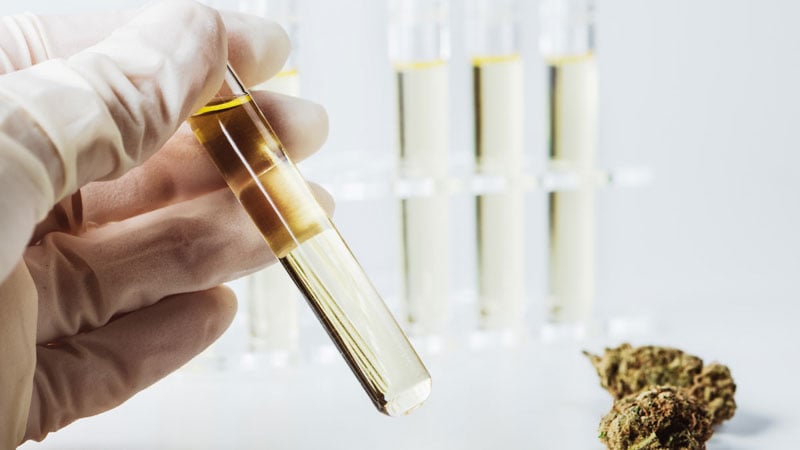 In 2018, the US federal government legalized hemp under the amended Agricultural Act. The new law removed hemp from the list of controlled substances and reclassified it as an agricultural crop.
Hemp is now legal to grow and process for commercial use in all 50 states, and fortunately for Connecticut residents, their state's law doesn't put any restrictions on the labeling and availability of CBD products.
That's because CBD oils from hemp plants contain 0.3% CBD or less, which isn't enough to produce psychoactive effects.
If you want to benefit from CBD without the buzz, Connecticut has plenty of options for getting the right product for your needs.
Below we explain the ins and outs of buying CBD oil in Connecticut.
How to Buy CBD Oil in Connecticut
As CBD oil continues to gain social acceptance around the world, more companies are trying to capitalize on the booming market. Some brands, however, promise unrealistic effects with their products, putting uninformed customers and their health at risk.
The safest and easiest way to buy CBD oil in Connecticut is through a reliable online store. Doing so allows you to do your research and compare different brands without having to go spend time driving around town to find a retailer that would match your needs. With online retailers, all you need to do is open your browser and compare products in the comfort of your home.
Aside from a wider range of products, online stores usually offer better price deals and discounts than in-store vendors due to the lack of certain operational costs. Additionally, some shops have loyalty programs for returning customers, allowing them to collect and spend special points to save on future purchases.
With the laws and regulations around CBD oil continuously changing, it's always a good idea to learn how to protect yourself from companies selling fake products.
Buying CBD Online in Connecticut
Most CBD transactions are made online today because it's by far the most convenient method. Here's how to weed out shady suppliers on your way to finding the best CBD oil in Connecticut:
We recommend products manufactured with CO2 extraction. This method doesn't require any heat or solvents, so it's safe for the environment. But more importantly, it's also safe for your health because there's no risk of leaving a toxic solvent residue at the bottom of the end product. CO2 extraction also yields the most consistent results when it comes to the potency of CBD.
Only purchase from brands who send their products to third-party laboratories for content analysis. These labs will examine the amount of CBD in your product on top of searching for potential contaminants. Companies that believe in the quality of their product will publish the reports from third-party labs on their websites.
Choose CBD oils sourced from organic hemp. Hemp plants are bioaccumulators, meaning they absorb everything from the environment they're cultivated in. The best CBD oils on the market are made from organic hemp, grown from local farmers without pesticides and other dangerous chemicals.
Steer clear of companies making unrealistic claims about their product. CBD oil isn't a miracle drug. It's a wonderful health supplement, but it won't make your health problems disappear overnight.
Full Spectrum CBD Oil 1000mg

$149

$129

—

or subscribe and save

15%

Broad Spectrum CBD Gummies 25mg

$99

$79

—

or subscribe and save

15%

CBD Capsules 25mg (Softgels)

$99

$84

—

or subscribe and save

15%
Follow the above steps and you'll be on the right track to finding a great supplier. If you wonder if local CBD stores in Connecticut can live up to online standards, see if you can find your city on the list below.
Local CBD Stores in Connecticut
Connecticut is a great place if you want to purchase CBD products in-store. If you have a medical marijuana card, your best bet is to find a nearby dispensary.
That doesn't mean you can't buy CBD oil locally without a medical marijuana license. Since hemp products are federally legal, these CBD oils can be purchased without a medical prescription. Before you commit to any local store, make sure to do your research to ensure this isn't yet another fly-by-night business.
Here are the best local stores in Connecticut to find high-quality products.
CBD Stores in Hartford
Arrow Alternative Care Medical Marijuana Dispensary
Finlandia Pharmacy & Natural Health Center
Stairway Thru Heaven
CBD Stores in New Haven
Cannahealth
The Glass Cloud
The White Buffalo
CBD Stores in Stamford
CLOUDS Vapor
The Glass Room III
Revitalize Wellness Center
CBD Stores in Bridgeport
Your CBD Store
Kure CBD and Vape
Stoked Smoke Shop
Key Takeaways on Buying CBD Oil in Connecticut
As the CBD market continues to grow, we can soon expect more CBD retailers all over the United States. If you live in Connecticut, you shouldn't have problems finding quality products near you. However, if you want a fast and easy way to get premium CBD oils at a reasonable price, your best bet is to search for them online.
Online retailers usually offer more products than physical stores. They can also afford to put higher discounts on their CBD due to the lack of operational costs associated with running a traditional brick-and-mortar shop. But above all, it's easier to do your research online, with all the information, lab tests, and reviews available at hand.
Remember to always do a background check on your potential supplier. A well-thought-out decision on a CBD product can significantly improve your quality of life once you start consistent supplementation.