If you're wondering where to buy CBD oil in Maryland to get high-quality products at reasonable prices, this article has all the answers to your questions.
Maryland is quite progressive when it comes to marijuana legalization. In 2014, the state authorities decriminalized possession of small amounts of marijuana, and the local CBD market is exploding there.
With so many stores and companies to choose from, questions about finding the best CBD products in Maryland become totally understandable.
At Royal CBD, we've prepared a CBD state map where you can familiarize yourself with different state laws regarding cannabis and learn the dos and don'ts of buying CBD oil in America.
Let's see how Maryland perceives different sources of CBD and how to get the best deals for quality products.
Is CBD Oil Legal in Maryland?
CBD can be extracted from hemp and marijuana plants. Both varieties belong to the Cannabis Sativa L. plant family.
However, despite their common genus, these two plants are different in terms of their cannabinoid profiles.
Marijuana contains a high amount of THC and low-to-high levels of CBD, whereas hemp boasts higher concentrations of CBD and only trace amounts of THC — usually at 0.3% or less.
Needless to say, hemp and marijuana are treated differently by Maryland's laws.
Marijuana CBD Oil in Maryland
Possession of small amounts of marijuana was decriminalized in Maryland in 2014. If you're caught with 10 grams or less, you will only receive a $100 fine provided that it's your first offense. The second offense can cost up to $250, and every following charge results in a $500 fine.
In 2016, Maryland also decriminalized the possession of drug paraphernalia and smoking in public. If you violate any of these laws, you can pay a maximum fine of $500.
2017 was a groundbreaking year for Maryland. The state introduced a legal marijuana bill that would have allowed adults aged 21 and over to possess an ounce of marijuana and grow up to six plants per household. The bill unfortunately failed, but we keep our fingers crossed for Maryland on this year's voting ballot.
Currently, the only way to buy marijuana-derived CBD oil in Maryland is to apply for a medical marijuana card.
Buying Marijuana CBD Oil in Maryland as a Patient
Maryland legalized marijuana for medical use in 2013. However, the program became fully implemented in late 2017 due to several years of legal battles and bureaucracy.
As of today, you can become a medical marijuana patient by signing up with the Maryland Medical Marijuana Commission.
Once done, you'll have to find a licensed medical marijuana doctor in the state. There's a list of approved doctors available on the Maryland State Medical Society website.
If you want to obtain a medical marijuana card, you must have one of the following conditions:
Anorexia
Cachexia
Chronic pain
Glaucoma
Muscle spasms
Post-traumatic Stress Disorder (ALS)
Seizures
Severe pain
Severe nausea
Wasting syndrome
Maryland has a total of 14 growers, 12 processors, and 9 dispensaries that are allowed to distribute medical marijuana to patients. Unfortunately, you can't grow your own plants.
How does hemp-derived CBD fit into the current legislation? Is it legal to buy CBD oil in Maryland?
Hemp CBD Oil in Maryland
Unlike flowering marijuana plants, hemp doesn't contain much THC. In fact, the amount of the psychoactive compound in hemp plants usually doesn't exceed 0.3%, which is the federally accepted limit.
In 2018, President Trump signed the amended Agricultural Act (also known as the Farm Bill), removing hemp from the list of controlled substances and reclassifying it to an agricultural commodity.
It's now legal to grow, process, and sell hemp for many uses, including paper, clothing, biofuel, and health supplements such as CBD oil.
The new law applies to all 50 states. Maryland has quickly adopted its state regulations to the 2018 Farm Bill. You can buy CBD products in Maryland over the counter from local head shops, vitamin stores, vape shops, and from online retailers.
In the next section, we share a few tips on finding quality CBD products in Maryland.
How to Buy CBD Oil in Maryland
As mentioned, hemp-derived CBD oil is legal and widely available in Maryland. Before we get down to different sources of CBD products, let's focus on important considerations you should take before trusting any company with your hard-earned money.
The CBD market is mostly unregulated, which creates room for fly-by-night companies that want to capitalize on uninformed customers, selling snake oil or contaminated products.
Here's how to avoid bad decisions when buying CBD oil in Maryland:
Make sure that the company tests its products in independent laboratories. Third-party testing is conducted to confirm the potency of the product and detect any unwanted chemicals before the company makes it available for sale. Only buy from companies that can provide Certificates of Analysis from third-party testing.
Choose products extracted with CO2. CO2 extraction is by far the best method of making CBD extracts. It doesn't require extra heat or solvents, so it's safe for both the environment and consumers. CO2 extraction also yields the highest consistency in terms of the amount of CBD in your oil.
Avoid companies making unrealistic claims about CBD. CBD oil is a highly versatile supplement, but it won't restore limbs or cure cancer overnight.
At Royal CBD, we use organically grown hemp from our local farmers in Colorado. We have total control over the manufacturing of our extracts, from harvesting to third-party testing and labeling. Each batch of our premium CBD oils comes with a Certificate of Analysis that proves its potency and purity levels. We also offer a 30-day money-back guarantee for those who want to try out our products in a risk-free way.
Following the above steps should make it easier to weed out sketchy companies and always get the right product for your CBD needs.
Let's have a look at where to find the best deals on quality CBD in Maryland.
Where to Buy CBD Oil in Maryland
The rising popularity of CBD has given rise to a ton of options to choose from, which can be both good and bad.
There's a massive range of products out there, which means you'll need to spend some time comparing different types of CBD to see which one suits you best.
If you're looking for the best deals on CBD oils in Maryland, we recommend finding a reliable online store, especially if there are no specialty shops that could have your desired products.
Buying CBD Online in Maryland
Shopping for CBD online is by far the easiest way to get decent products at reasonable prices.
You can browse through a company's online products, accessing its full line. Buying CBD online allows you to compare them with different brands so you can choose a product that provides the best value for your money. You can do it in the comfort of your home, without having to drive around the city and visit different shops to get information about particular products.
Another great benefit of buying CBD online is the abundance of great deals for premium products. Online stores can avoid many of the operational costs associated with running a traditional brick-and-mortar store. You can use coupon codes, seasonal discounts, and join special loyalty programs.
Full Spectrum CBD Oil 1000mg

$149

$129

—

or subscribe and save

15%

Broad Spectrum CBD Gummies 25mg

$99

$79

—

or subscribe and save

15%

CBD Capsules 25mg (Softgels)

$99

$84

—

or subscribe and save

15%
For example, at Royal CBD, we have a loyalty program where you can collect special crowns and spend them on your next order to save money on your favorite products.
Finally, it's easier to do your research on a company you want to purchase from. You can read its website, check the third-party lab reports, and look at social media groups or forums to see what other customers are saying about your potential supplier.
Local Stores Selling CBD Oil in Maryland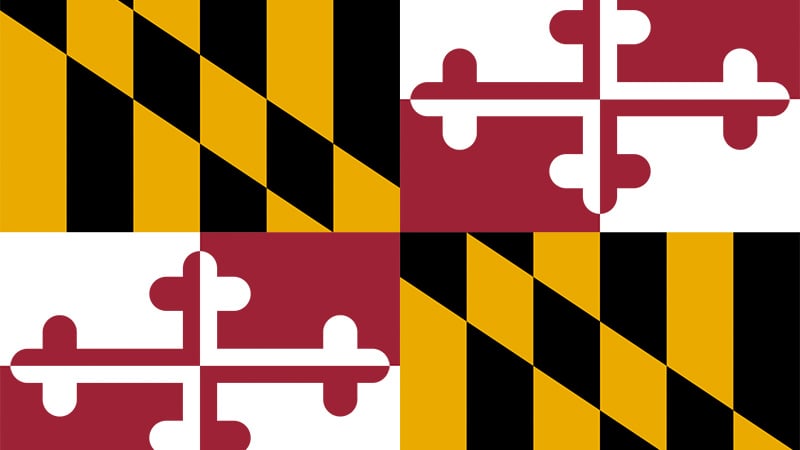 If you have a medical marijuana card, your best bet is to head to the nearest dispensary. Marijuana dispensaries have different cannabis products, so there's a big chance that at least one of them will offer a few hemp-derived CBD oils.
Without a medical marijuana certificate, you can still choose from a myriad of options in Maryland. Just head down to your local head shop, natural health outlet, or vape store, and they should point you in the right direction.
Below we share our recommendations for places where you can buy quality CBD oil in Maryland without breaking the bank.
Best CBD Stores in Baltimore
Metro xmd
Harbor Vapor
Charm City Natural Health
Best CBD Stores in Dundalk
Charm City Medicus
Kratom Vapor CBD
Up in Flamez Smoke Shop
Best CBD Stores in Bethesda
Village Green Apothecary
AVAIL Vapor
RISE Bethesda
If you don't see your city on our list, we recommend finding a reputable online store. At Royal CBD, we ship our products to all 50 states.
Key Takeaways on Buying CBD Oil in Maryland
Although marijuana is illegal for recreational use in Maryland, it has a simple medical marijuana program for patients with eligible conditions. Marijuana dispensaries are currently the best local spots to purchase quality CBD — including hemp products — without worrying about their quality.
If you don't have any medical condition, there are still tons of options for getting CBD oil and benefit from cannabis without the buzz. Hemp-derived products are federally legal and available for sale all across Maryland.
Again, we recommend finding a reliable online store for those who want to find the best deals on CBD extracts. Online retailers offer a greater variety of products and better discounts than what you'll find in-store.
But most importantly, always remember to do your research on your potential supplier. Being an informed customer helps you avoid sketchy companies that are looking to cash in on an unregulated market.
Good luck shopping for CBD in Maryland!