Finding CBD oil in New Mexico is relatively easy if you know where to look for it. There are many local suppliers in the state, but if you want to get the best deals for your money, we recommend finding a reliable online store.
With cannabis laws continuously changing across the state, it can be difficult for new consumers to distinguish between different sources of CBD. This article will help you learn everything you need to know about buying CBD oil safely in New Mexico.
From the local regulations on cannabis to the most reliable retailers in the state, we've got you covered.
Let's start by explaining the legal status of CBD oil.
Is CBD Oil Legal in New Mexico?
Whether a CBD product is legal in New Mexico depends on how it was produced. There are two types of cannabis plants that can be used to extract CBD: hemp and marijuana.
Despite coming from the same family, hemp and marijuana have different chemical profiles.
Hemp plants usually contain higher levels of CBD and only trace amounts of THC (0.3% or less). CBD oils made from this variety of cannabis can't get the user high.
Marijuana, on the other hand, comes with a considerable amount of THC, so if you take marijuana-derived CBD oil, you can experience its euphoric effects.
Needless to say, both types of cannabis are subject to different regulations in New Mexico.
Below we dig deeper into this subject.
Marijuana CBD Oil in New Mexico
New Mexico doesn't allow marijuana for recreational purposes.
Marijuana possession without a medical card can carry serious penalties.
Getting caught with less than an ounce is punishable with a fine of $50 to $100 and up to 15 days in jail if that's your first offense. Second-time offenders can face higher charges, including a $1000 fine and up to one year in prison.
The identical punishment applies to possession charges for more than an ounce, even if it's your first time being caught.
Can Doctors Prescribe CBD Oil in New Mexico?
New Mexico was the pioneer state when it comes to medical marijuana research. In 1978, the Controlled Substances Therapeutic Research Act introduced a program that allowed marijuana for research purposes to a limited number of patients with cancer and glaucoma.
29 years later, in 2007, Governor Bill Richardson signed a bill that created a more complex medical marijuana program. Under the Lynn and Erin Compassionate Use Act, patients can purchase up to 8 ounces of marijuana in 90 days from one of the state-licensed non-profit producers.
The new law also allows patients to grow their own marijuana at home. However, patients must apply for a Personal Production License in order for their medical garden to be legal. Once approved, you can legally grow up to 4 mature marijuana plants.
If you want to apply for a medical marijuana card, you must have one of the following eligible conditions:
Amyotrophic Lateral Sclerosis
Anorexia
Arthritis
Cancer
Cachexia
Cervical dystonia
Chronic pain
Crohn's disease
Epilepsy
Glaucoma
Hepatitis C
HIV/AIDS
Hospice patients
Huntington's disease
Intractable nausea or vomiting
Multiple sclerosis
Neuropathy pain
Parkinson's disease
Post-traumatic Stress Disorder
Spinal cord damage
Wondering what are your legal options for CBD oil without a prescription?
Head on to the next section.
Hemp CBD Oil in New Mexico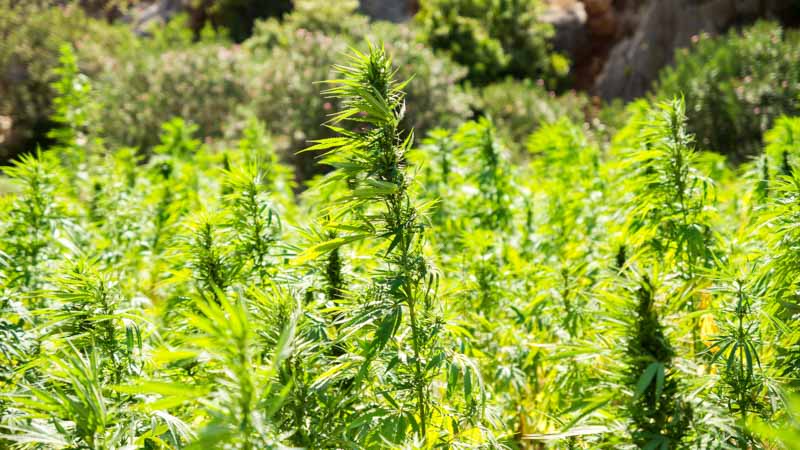 Hemp-derived CBD is legal in New Mexico; the state has quickly adjusted its law to the 2018 Farm Bill that legalized hemp on the federal level by removing it from the list of controlled substances.
Hemp is now an agricultural commodity that can be grown for a wide range of uses, including paper, clothing, fuel, food, and health supplements such as CBD extracts.
Wondering where to buy CBD oil from hemp in New Mexico?
Let's focus on the dos and don'ts of shopping for CBD in the first place.
Where to Buy CBD Oil in New Mexico?
New Mexico is a good place to look for hemp-derived CBD, with the highest concentrations of CBD stores in its largest cities. However, if you want the best deals for your money, we recommend finding a reliable online store.
Here's why buying CBD online is the most convenient method to get quality products in New Mexico:
Benefits of Buying CBD Online
Shopping for CBD online gives you access to a broader selection of different products. CBD is available in tinctures, capsules, edibles, topicals, vapes, concentrates, and even pet products. Local stores usually carry two types of CBD due to limited shelf space.
You don't need to travel around the city and bounce between different stores to compare products. You can do it in the comfort of your home, with a few clicks. Placing an order online is easy and most companies ship their products within 3-5 business days.
If that extra waiting time caused you to hesitate for a bit, there's one argument you simply can't beat — the price.
CBD oils found online are usually less expensive than their in-store counterparts because they can cut out the middleman. With no extra costs to cover, online stores can offer regular discounts, coupon codes, reward programs, and bulk pricing.
For example, at Royal CBD, you can join our Royalty Program, where you can collect special crowns and spend them on your next order to save more money on your favorite products or test something new for less.
Full Spectrum CBD Oil 1000mg

$149

$129

—

or subscribe and save

15%

Broad Spectrum CBD Gummies 25mg

$99

$79

—

or subscribe and save

15%

CBD Capsules 25mg (Softgels)

$99

$84

—

or subscribe and save

15%
Finally, it's easier to do your research on any company when shopping online. You can read the lab reports, user reviews, and check social media groups or forums to get advice from people who are more experienced in this niche.
Otherwise, you can look for CBD oil somewhere locally in New Mexico if that's how you would prefer to shop.
Local Suppliers in New Mexico
CBD Stores in Albuquerque
Rio Grande Hemp Company
Nature's Secret CBD and Oils
The CBD Boutique
CBD Stores in Santa Fe
Fruit of the Earth Organics
Drip N' Vape
Hemp Apotheke
CBD Stores in Las Cruces
Herb N' legend
American Shaman
The Vapory
CBD Stores in Rio Rancho
Magnum Vapors
Evergreen Herbal market
Oasis Vape Rio Rancho
The above stores should hire staff that will point you in the right direction and helps you find the best product for your CBD needs. If you don't see your city on our list, make sure to check the online CBD scene.
How to Find Quality CBD Oil in New Mexico?
The CBD market is very loosely regulated due to being a relatively new industry. There are many companies selling great products, but there's an equal number of companies that prey on uneducated customers.
Follow the steps below if you want to protect yourself from sketchy suppliers:
Only buy from companies whose products have been certified by an outside lab. Third-party laboratories can tell you if the product contains the advertised amount of CBD, and whether or not it's contaminated with dangerous chemicals such as pesticides, solvents, and heavy metals. If a company can't provide the lab reports, you should look for CBD oil elsewhere.
Choose CBD extracted with CO2. CO2 extraction is by far the best method to produce CBD extracts because it doesn't involve additional heats and solvents. It yields clean extracts and ensures consistency when it comes to their potency.
Avoid companies making claims that sound too good to be true. CBD has a great number of science-backed health benefits, and it can significantly improve your daily life, but if a company promises to cure cancer with its products, it's a company to avoid.
Opt for full-spectrum extracts. Full-spectrum means that the CBD oil was made using the entire plant. This process captures other beneficial compounds, such as minor cannabinoids, terpenes, and flavonoids. These compounds boost the efficacy of CBD and is thought to require lower doses than isolates to take effect.
Organic is the way to go. Hemp plants absorb everything from the soil they grow in because they're bioaccumulators. The best CBD oils in New Mexico are those made with organic, non-GMO hemp.
At Royal CBD, we source our hemp from Colorado, where farmers grow their plants without pesticides or growth boosters. Our CO2 extraction technology allows us to make pure and potent extracts without hurting the environment on the way. Once extracted and filtered, each batch of our products undergoes a content analysis in a certified laboratory. We make the lab reports available upon request to ensure that the CBD content in the Royal CBD line matches the advertised amount on the bottle.
Looking for a risk-free way to try out our products? We offer a 30-day money-back guarantee!
Now that you know how to shop for CBD, it's time to look at the map of New Mexico and mark some quality CBD stores on it.
Key Takeaways on Buying CBD Oil in New Mexico
New Mexico is making progress with its marijuana policies. Although the law doesn't allow marijuana for recreational use, the state has a well thought out medical marijuana program for patients with qualifying conditions.
However, if you want to buy CBD oil in New Mexico without a prescription, there are still plenty of options to choose from. You can track down your favorite products by checking with different local retailers to see what they have in stock. If you don't find anything interesting there, your best bet to get quality CBD products is to find a reliable online store.
No matter how you choose to shop for CBD in New Mexico, make sure to always do your research on any company before you trust them with your money.