In 2016, Ohio became the 25th state to legalize medical marijuana, when Governor John Kasich signed House Bill 523. Under the new law, residents of Ohio are allowed to treat specific conditions with marijuana and its derivatives such as CBD oil.
But what about hemp-derived CBD oil in Ohio?
Is it legal?
Do Ohio's local retailers offer quality CBD products, or is it better to look for CBD oil online?
In this article, we explain the cannabis laws in Ohio and share our tips on finding a decent company regardless of how you decide to shop for CBD.
Is CBD Oil Legal in Ohio?
Without going into too much detail, Ohio accepts hemp-derived CBD oil under the new federal law, but marijuana-derived products are available only for medical marijuana patients.
Why does the state of Ohio have different regulations for hemp and marijuana?
Although hemp and marijuana share the same parent — Cannabis sativa L. — they have different chemical profiles and thus can produce different effects.
Marijuana contains a significant amount of THC; CBD oils made from marijuana can get the user high aside from providing its many health benefits.
Hemp, on the other hand, is naturally low in THC (0.3% or less), but it contains higher concentrations of CBD. Although CBD is non-intoxicating — it won't make you feel high or stoned — it offers a myriad of therapeutic effects.
Here's how Ohio sees both sources of CBD in the light of the law.
Marijuana CBD Oil in Ohio
Marijuana is illegal for recreational use in Ohio, but the state has decriminalized its possession. The plant has also been legalized for medical purposes under certain circumstances.
Getting caught with 100 grams of marijuana (about 3.5 ounces) or less is a misdemeanor punishable with a mere fine of approximately $150 if that's your first offense.
Possession charges for amounts between 100 grams and 200 grams entail a jail sentence of 30 days and a fine of $250, so as you can see, the penalties are very light when compared with many of the other states such as Texas or Georgia.
Hemp CBD Oil in Ohio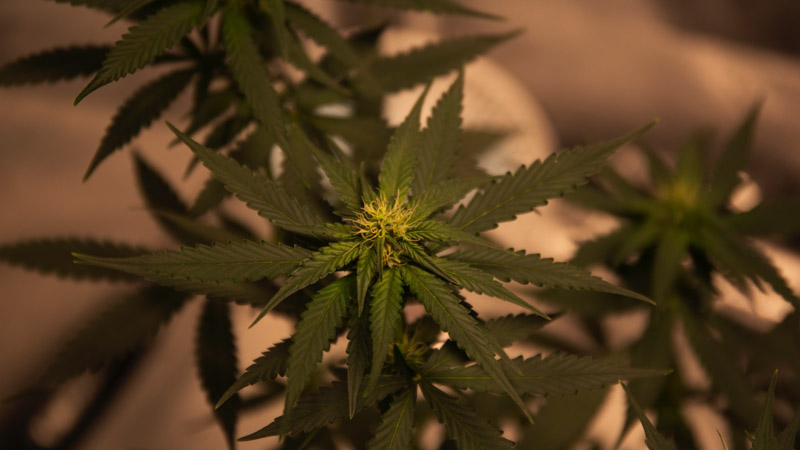 The legal status of hemp CBD oil in Ohio is a bit murky.
According to Federal law, hemp is legal to grow and sell for commercial use, including paper, clothing, fuel, food, and health supplements such as CBD extracts.
The 2018 Farm Bill removed hemp from the list of controlled substances. Hemp is no longer considered a drug; it's an agricultural commodity like any other crop that can be freely cultivated in the United States.
Now, the catch with the legality of CBD oil in Ohio is that the Ohio Board of Pharmacy has recently prohibited stores other than state-licensed medical marijuana dispensaries from selling any cannabis-derived products.
In other words, vape shops, food stores, and head shops can't legally sell CBD oil in Ohio because hemp is a type of cannabis.
Some of the above stores had to quit stocking CBD oils, while others refused to do so, but we would avoid these retail suppliers regardless.
More on that later in the article.
For now, let's focus on the dos and don'ts of buying CBD oil in Ohio.
Can Doctors Prescribe CBD Oil in Ohio?
Yes! Residents of Ohio can buy marijuana-derived CBD oil if they can provide a written recommendation from a doctor. The new law stems from House Bill 523, which made medical marijuana legal on September 8, 2016.
However, state law doesn't allow patients to smoke marijuana. They're permitted to use CBD oils, vape juices, and cannabis patches.
You can apply for a medical marijuana recommendation if you suffer from one of the following conditions:
Amyotrophic Lateral Sclerosis (ALS)
Alzheimer's disease
Cancer
Chronic traumatic encephalopathy
Chronic or severe pain
Crohn's disease
Epilepsy or other seizure disorder
Fibromyalgia
Glaucoma
Hepatitis C
HIV/AIDS
Inflammatory bowel disease
Multiple sclerosis (MS)
Parkinson's disease
Post-Traumatic Stress Disorder (PTSD)
Sickle cell anemia
Spinal cord disease or injury
Tourette's syndrome
Traumatic brain injury
Ulcerative colitis
What if you don't have any of the above conditions? Is it possible to legally buy CBD oil in Ohio?
Where to Buy CBD Oil in Ohio?
As mentioned, Ohio has strange laws when it comes to hemp-derived CBD. Although the state has decided to enforce the 2018 Farm Bill, it doesn't allow everyone to distribute hemp-derived CBD oils. In fact, only licensed dispensaries can sell CBD oil to patients.
Given this, your best bet for getting high-quality CBD in Ohio is to find a reliable online store.
Benefits of Buying CBD Online
Online stores offer a broader selection of products. CBD comes in many forms, including tinctures, edibles, capsules, creams, lotions, vape juice, and even products for pets. It's difficult to find all these formats in one local store; most of them offer one or two types of CBD due to limited shelf space.
Shopping for CBD online also makes your research much easier. You don't need to drive around the city to compare different products. You can do it with a few clicks and in the comfort of your home. Online stores usually provide more detailed information about their CBD oils; you can also read lab reports and ask experienced users on social media and forums for advice on a particular brand.
But most importantly, CBD products found online are more affordable than those available in-store. Running a physical storefront entails certain operational costs, and that's usually reflected by the price tag on their products. Online retailers can afford to offer regular discounts, coupon codes, and reward programs for their customers.
Full Spectrum CBD Oil 1000mg

$149

$129

—

or subscribe and save

15%

Broad Spectrum CBD Gummies 25mg

$99

$79

—

or subscribe and save

15%

CBD Capsules 25mg (Softgels)

$99

$79

—

or subscribe and save

15%
For example, at Royal CBD, we offer a special Royalty Program, where you can earn crowns and spend them on your next order to save money on your favorite products or try something new for less.
Local CBD Retailers in Ohio
Although regulations around CBD oil in Ohio remain a bit foggy, you shouldn't have problems tracking down quality products locally. Even without a medical license, you can visit one of the stores that have refused to stop stocking up CBD.
We recommend buying CBD oil from a trustworthy online store, but if you need to touch the product yourself, or ask the store's employee for advice, here's a list of recommended CBD retailers in Ohio:
CBD Stores in Columbus
Top Notch Vapor
High Up Head Shop
AltSmoke
CBD Stores in Cleveland
Limitless CBD
Cleveland Vape
Lux Vapors
CBD Stores in Cincinnati
Ohio CBD Guy
Cincy Vapors
Vape It Up
The above stores should hire knowledgeable and helpful staff that can answer your questions about CBD. If you don't see your city on the list, make sure to research your options online.
How to Find Quality CBD Products in Ohio?
The production of CBD oil isn't regulated and many of the local stores don't offer any lab-verification when it comes to the CBD content and the product's purity.
Make sure you follow the steps below to avoid sketchy companies and mislabeled products:
Only buy from companies that can provide reports from third-party testing. Third-party laboratories can tell you if the CBD content matches the amount advertised on the bottle. They can also detect common contaminants and any unwanted additives, such as pesticides, heavy metals, pesticides, and mycotoxins.
Full-spectrum CBD is generally better than isolate-based products. Full-spectrum means that the product was made using the entire plant. This process captures more valuable compounds on top of the CBD, including minor cannabinoids, terpenes, and flavonoids. These compounds help your body process CBD more efficiently — the concept is called by scientists "the entourage effect." If you're not regularly tested for drugs at work, we recommend choosing full-spectrum CBD over isolates.
Choose CO2-extracted CBD. CO2 extraction is by far the safest and most efficient method for making CBD oil. This technology doesn't require additional heat or solvents; it can slowly pull CBD and other compounds from the plant material without destroying them in the process.
Organic hemp is the way to go. If your hemp is organic, this means it has been grown in clean soil and without the use of fertilizers, pesticides, or growth boosters. Growing conditions are paramount for the quality of CBD extracts. Organic hemp yields CBD-rich flowers, which are excellent material for further extraction.
Avoid companies claiming that CBD is a miracle drug. It's not. Although CBD oil is a versatile supplement — it can do many great things for your physical and mental health — it's not going to mend broken bones or cure cancer. Any company claiming such things is a company to avoid.
At Royal CBD, we source our hemp from organic farms in Colorado, where we've created our CBD-rich blend of strains in partnership with local craft growers. The Royal CBD premium line is made using supercritical CO2, ensuring consistent potency and highest purity levels in each batch. We rigorously test our products in a third-party laboratory to make sure that you're buying a legitimate product that will help improve your daily life.
If you want to try out Royal CBD oil without risk, we offer a 30-day money-back guarantee on all our products. You can choose from traditional oil drops, softgel capsules, THC-free gummies, and broad-spectrum topicals.
Key Takeaways on Buying CBD Oil in Ohio
Ohio is a good place to be if you need cannabis. The penalties for marijuana possession are relatively light; the state has a well-developed medical marijuana program in place; it also allows the sale of hemp-derived CBD oil.
If you're searching for the best deals on CBD in Ohio, we recommend finding a reliable online store. Shopping for CBD online and doing your research beforehand will save you time and money.
Although Ohio didn't oppose the 2018 Farm Bill, the state's Pharmaceutical Board imposed restrictions on local retailers distributing hemp-derived CBD products. That's why buying CBD oil online is the best option in Ohio in terms of legality.
At Royal CBD, we will ship your order within a few business days.