The District of Columbia is a great place to be for cannabis enthusiasts. Buying CBD oil in Washington D.C. is easy with so many dispensaries and specialty stores selling different CBD products.
It's no wonder that people are flocking to the CBD. This natural compound has a myriad of health benefits and can greatly improve your daily life when you use a high-quality product. People are choosing CBD oil to manage a wide range of health conditions, including pain, anxiety, inflammation, seizures, insomnia, nausea, and more.
But how do you find a reliable source of CBD oil in Washington D.C.? Should you look for CBD somewhere near you or shop online?
In this article, we'll cover the regulations around cannabis in the country's capital city and point you to the best deals on quality CBD online and locally.
Is CBD Oil Legal in Washington, D.C.?
Yes, you can legally buy CBD oil in Washington, D.C. The District of Columbia legalized marijuana for recreational use in November 2014, so CBD oil is legal there regardless of its source.
Nevertheless, different rules apply to CBD products derived from hemp and marijuana.
Below we shed more light on these regulations.
Marijuana CBD Oil in Washington, D.C.
As previously mentioned, marijuana is legal in Washington, D.C. for both medical and recreational use. The government passed Initiative 71 on November 4th, 2014, decriminalizing the cultivation, sale, and use of recreational cannabis.
Adults aged 21 and over can purchase marijuana and its derivatives, including CBD oil, from one of the state-licensed dispensaries, with possession limits up to one ounce per transaction. For CBD oil, this limit has been increased to 72 ounces because it's classified as a marijuana-infused liquid.
Can Doctors Prescribe CBD Oil in Washington, D.C.?
Yes, doctors in Washington, D.C. can prescribe medical marijuana to patients with eligible conditions, including:
Appetite loss
Cachexia
Cancer
Cramping
Chronic renal failure
Crohn's disease
Epilepsy
Glaucoma
Hepatitis C
HIV/AIDS
Intractable pain
Multiple sclerosis
Nausea
Post-Traumatic Stress Disorder
Seizures
Traumatic brain injury
Vomiting
Any other condition approved by the Washington Board Health
Once you get your medical marijuana card, you can possess up to 3 ounces of marijuana, 48 ounces of edibles, 216 ounces of CBD oil, and 21 grams of concentrates. You can also have 8 ounces of usable marijuana produced from homegrown plants — up to 6 mature plants per household.
How does CBD oil derived from hemp fit into all this?
Hemp CBD Oil in Washington DC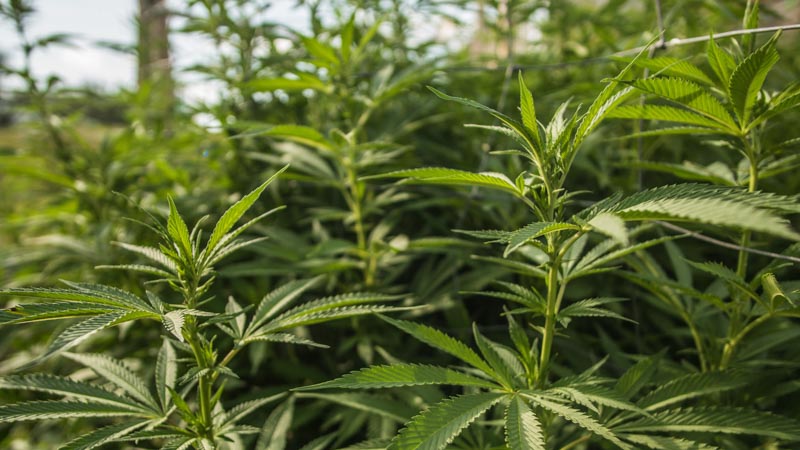 CBD can be extracted from two types of cannabis plants — hemp and marijuana.
Although these plants share the same genus — Cannabis sativa L. — they have different cannabinoid profiles, especially when it comes to the ratio between THC and CBD.
Marijuana contains higher concentrations of THC; CBD oils made from this type of cannabis can get you high on top of providing the health benefits associated with using cannabinoids.
Hemp, on the other hand, has higher levels of CBD and only a trace amount of THC (up to 0.3%). CBD products derived from hemp cannot produce mind-altering effects.
The US federal government legalized hemp in 2018 under the new Farm Bill. The new law removed hemp from the list of controlled substances, making it an agricultural commodity like any other crop. Hemp can be grown for commercial purposes, including paper, clothing, building materials, biofuel, food, and health supplements such as CBD oil.
You can easily find CBD oil over the counter in Washington D.C., but before you hand over your hard-earned money to any company, make sure that you understand how quality products should be made.
Where to Buy CBD Oil in Washington, D.C.?
Washington, D.C. is home to many places that sell CBD oil and other hemp-derived supplements. You can easily find them over the counter in a dispensary or your local vape store.
With that being said, we almost always recommend placing your order with a reputable online store if you're looking for the most convenient way to buy quality products.
Benefits of Buying CBD Online
Shopping for CBD locally can be expensive because running a physical storefront involves big operational costs, which is usually reflected by the prices. When you purchase directly from an online supplier, you can take advantage of discounts, coupon codes, bulk purchase deals, and reward programs. It would be hard to find them in a local store.
For example, at Royal CBD, you can join our Royalty Program, where each order gives you special crowns rewards that you can spend on your future orders to try out something new for less or save more money on your favorite products.
Buying online also provides you with necessary information about the company that may be difficult to find when you look for CBD oil somewhere near you in Washington, D.C. Most online brands will publish their third-party testing results on their website. You can also reach out to people on social media for advice from experienced customers, read user reviews, and check online rankings.
Full Spectrum CBD Oil 1000mg

$149

$129

—

or subscribe and save

15%

Broad Spectrum CBD Gummies 25mg

$99

$79

—

or subscribe and save

15%

CBD Capsules 25mg (Softgels)

$99

$84

—

or subscribe and save

15%
If you don't want to waste time driving around town and comparing different products, shopping for CBD online allows you to browse through the whole world of CBD goods from the comfort of your home. Of course, you'll have to wait those extra few days for delivery, but the above benefits definitely outweigh this minor inconvenience.
Local CBD Retailers in Washington, D.C.
As mentioned, Washington, D.C. is one of the best places to be for CBD users. The best place to look for quality products locally is in your closest dispensary. These places should hire professional customer service who can answer your questions about CBD and help you select the right product for your needs.
Here's our shortlist of the top-rated CBD suppliers in the District of Columbia:
CBD Stores in Washington, D.C.
Established National Holistic Healing Center
Takoma Wellness Center
Action House Vape
Capital City Care Dispensary
Herbal Alternatives
Dynamic Integrations Wellness & Massage
Vaperz
Vapor Vapor Vapor
How to Find Quality CBD Products in Washington, D.C.?
Shopping for CBD oil in Washington, D.C. is easy; the capital city has many specialty stores selling CBD in different forms. However, the market is largely unregulated when it comes to quality standards, so if this is going to be your first order, it's important to do your homework beforehand.
Here's how you can protect yourself from companies selling fake CBD products.
Choose products made with organic hemp. Hemp plants are bioaccumulators, meaning they can absorb everything from the environment they grow in. The best CBD oils in Washington, D.C. are made with organic, non-GMO hemp.
Look for CO2-extracted CBD. CO2 extraction doesn't require additional heat or solvents. It's the best method to produce pure CBD oil with consistent potency but without hurting the environment on the way. The equipment required to run CO2 extraction is also expensive, so it's a sign that the company is committed to quality.
Full-spectrum is superior to isolates. Unlike isolates, full-spectrum CBD is made using the entire hemp plant, capturing more beneficial compounds. These compounds include minor cannabinoids, terpenes, and flavonoids, all of which boost the efficacy of CBD, allowing the body to process it faster. This phenomenon is known as "the entourage effect" and doesn't occur in isolate-based products.
Only purchase from companies that send their products for third-party testing. An independent laboratory should be able to determine whether the CBD content in your product matches the advertised potency. It can also tell you if there are any contaminants, such as heavy metals, pesticides, or solvents. Reputable CBD companies make the results from the lab analysis available on their website or upon request.
Avoid brands making unrealistic claims about CBD. CBD can do many great things for your health, but it's not a miracle drug that will cure cancer or any disease for that matter. If you see a company making such claims, it's probably a scam.
At Royal CBD, we make our premium extracts with organic hemp from our friendly farmers in Colorado. The entire Royal CBD line is produced using CO2 extraction, which yields pure and consistently potent products in each batch. Our collection includes full-spectrum CBD oil, capsules, THC-free gummies, and two broad-spectrum topicals. We extensively test them in a certified laboratory for CBD content and purity.
If you're looking for a risk-free way to try out our products, we offer a special 30-day money-back guarantee!
Key Takeaways on Buying CBD Oil in Washington, D.C.
Overall, tracking down a reliable source of CBD oil in Washington, D.C. is relatively easy. The District of Columbia has several dispensaries, wellness centers, and vape stores where you can find quality products at a reasonable price.
However, if you're looking for the best deals on CBD oil, we recommend placing your order with a reputable online store. Buying CBD oil saves you time and money, let alone an easier background check on any company that offers CBD out there. At Royal CBD, we'll ship your package to Washington, D.C. within 3-5 business days.
Make sure to always do your research on your potential supplier; check the hemp source, cannabinoid spectrum, extraction method, and ask for third-party lab reports. Being an informed customer will help you maneuver in the unregulated market and avoid sketchy companies.