CBD has taken the United States by storm, completely revitalizing the cannabis industry in the country. People use CBD oil for everything from anxiety to pain, insomnia, inflammation, seizures, and more.
Hemp is now federally legal, so you shouldn't have much trouble tracking down a trustworthy source of CBD. However, not every form of CBD oil is legal in West Virginia, so it's important to stay up-to-date with the local law before you start searching for CBD near you.
This article will explain the legal status of CBD in West Virginia and point you in the right direction to finding the best deals on CBD online and locally.
Is CBD Oil Legal in West Virginia?
State cannabis laws can be complicated, and West Virginia is a textbook example of it.
Whether your CBD oil is legal in the state depends on what type of cannabis it comes from.
CBD can be extracted from hemp and marijuana, which have different chemical profiles.
Marijuana is naturally high in THC, the intoxicating compound that gets people high on top of providing many health benefits.
Hemp, on the other hand, has only trace amounts of THC (up to 0.3%) and higher levels of CBD. Hemp-derived CBD oil can't make the user feel high and is treated differently than marijuana in the light of the West Virginia law.
Marijuana CBD Oil in West Virginia
Marijuana is illegal for recreational use in West Virginia. If you get caught with any amount of weed and don't have a medical marijuana card, you can face criminal charges.
Possession of fewer than 15 grams of weed is punishable with 3-6 months in prison and a fine of $1000, which double for subsequent offenses. If you also get caught with drug paraphernalia, it can add an additional six months in jail and a $5000 fine to your punishment.
If you want to get marijuana CBD oil in West Virginia, your only option is to join the state's medical-marijuana program.
Can Doctors Prescribe CBD Oil in West Virginia?
The state of West Virginia legalized marijuana for medicinal purposes in 2017 when Governor Jim Justice signed Senate Bill 386.
Also known as the West Virginia Medical Cannabis Act, SB 386 allows patients with severe medical conditions to access marijuana in the form of oil, tinctures, capsules, creams, gels, and ointments. The state government refused to legalize smokable forms of marijuana.
If you want to apply for a medical marijuana card in West Virginia, you must have one of the following medical conditions:
Amyotrophic Lateral Sclerosis (ALS)
Cancer
Crohn's disease
Damage to the spinal cord
Epilepsy
HIV/AIDS
Huntington's disease
Intractable seizures
Neuropathies
Parkinson's disease
Post-Traumatic Stress Disorder
Multiple sclerosis
Severe, chronic, or intractable pain
Sickle cell anemia
Terminal illness with a life expectancy of less than one year
How does West Virginia law treat hemp-derived CBD oil?
Hemp CBD Oil in West Virginia
Hemp was federally legalized by the 2018 Farm Bill, which removed the plant from the list of controlled substances and reclassified it as an agricultural commodity. Under the new law, the Federal Government allowed farmers to grow industrial hemp for commercial purposes, including paper, clothing, fuel, building materials, food, and health supplements such as CBD extracts.
You can easily find CBD oil locally and online in West Virginia, but before we dive into the best places to buy CBD in the Mountain State, let's talk about the quality standards in the US hemp industry.
Where to Buy CBD Oil in West Virginia?
Despite its strict marijuana laws, West Virginia is a great place to be if you're looking for hemp-derived CBD oil.
You can find CBD over the counter in local specialty stores or online.
We recommend placing your order with a reputable online supplier. Here's why:
Benefits of Buying CBD Online
Shopping for CBD online is the best way to find high-quality products at a reasonable price.
You'll also save yourself a lot of time and money by making your purchase online. Not only can you browse through different products in the comfort of your home, but you're also cutting out the middleman. This way, you can take advantage of discounts, bulk pricing, coupon codes, and reward programs. It would be difficult to find such good deals somewhere locally.
For example, at Royal CBD, you can join our Royalty Program, where each purchase gives you special crowns. You can spend them on your next order, saving more money on your favorite products.
Full Spectrum CBD Oil 1000mg

$149

$129

—

or subscribe and save

15%

Broad Spectrum CBD Gummies 25mg

$99

$79

—

or subscribe and save

15%

CBD Capsules 25mg (Softgels)

$99

$84

—

or subscribe and save

15%
It's also easier to run a background check on a CBD product when you look for it online. CBD may need some time to take effect, so it can be difficult to know if you're getting a quality product by only testing it. When you shop online, you can read the third-party lab reports or check what other customers are saying about the product in reviews or on social media.
As mentioned earlier, driving around town looking for the right product is a huge time-devourer. Although it takes an extra few days for the product to get delivered to your door, you save yourself the gas money and precious time you'd otherwise spend on doing local errands.
Local CBD Suppliers in West Virginia
With all that said, you should still be able to find a selection of CBD products somewhere near you in West Virginia. We've compiled a list of the top-rated retailers in the Mountain State. See if you can find your city below.
CBD Stores in Charleston
Cap City CBD Plus
New Found Vapes LLC
Appalachian Cannabis Company
CBD Stores in Huntington
Full Steam Vapor Huntington
The Vapor Bar
My Vapor Place
CBD Stores in Morgantown
The Vapor Room
AVAIL Vapor
Glass Gone WOW
If you don't see your city on our list, you can head down to the closest vape shop and see if they stock CBD. We also recommend checking for a reputable store online. Many great retailers can get CBD out to you in a few working days. At Royal CBD, we'll send your package to West Virginia within 3-5 days.
How to Find Quality CBD Products in West Virginia?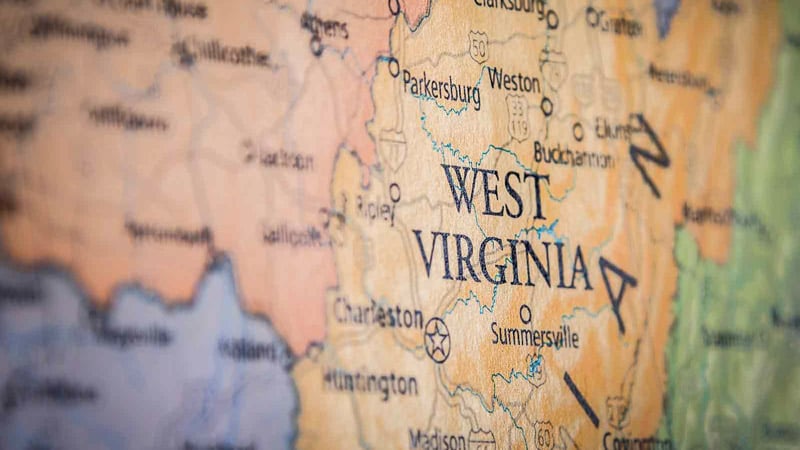 The global hype on CBD has created a booming industry. The market is brand new and continually changing, so the best way to find high-quality products is to keep yourself educated.
If you don't want to fall a victim of the many fake CBD products being sold over the counter, we have a handy cheat sheet for you:
Double-check the THC content. The cannabis law in West Virginia is a bit cloudy. Marijuana-derived CBD oil is legal only for medicinal purposes, so if you want to buy CBD without crossing the law, make sure it comes from industrial hemp plants. Hemp contains less than 0.3% of THC, which is the federally accepted limit.
Look for full-spectrum CBD. Full-spectrum products are those that are made using the whole hemp plant. CBD isolates are made using only one compound of the plant and don't contain other valuable compounds such as minor cannabinoids and terpenes. When combined together, these compounds help the body process CBD more efficiently; this phenomenon is known as the entourage effect.
Organic is the way to go. Hemp plants are bioaccumulators; in simple terms, they absorb every substance from the soil they grow in. The best CBD oils in West Virginia are produced from organic, non-GMO hemp.
Choose CO2-extracted products. CO2 extraction doesn't require additional heat or solvents. It's the best method to produce CBD oil because it yields consistently pure and potent extracts without hurting the environment on the way. If a company uses CO2 extraction, it means they're committed to quality because the equipment required to perform it is very expensive.
Only buy products that have been tested by a third-party lab. Independent laboratories can detect any unwanted or potentially dangerous chemicals contained in CBD oil. They can also verify the CBD content of your product to make sure that it matches the advertised potency.
Watch out for companies claiming that CBD is a miracle drug. CBD is a wonderful supplement that can improve your daily life in a natural and safe way, but it's not going to mend broken bones or cure cancer. Companies making such claims are the companies to avoid.
At Royal CBD, we use organic, non-GMO hemp plants from our friendly farmers in Colorado. The entire Royal CBD line is made with supercritical CO2 to ensure consistent concentrations of CBD in each batch without using toxic solvents. We offer full-spectrum CBD oil and softgels, THC-free gummies, and two types of topicals. Each product comes with the Certificate of Analysis from an independent laboratory, so you can rest assured that you're buying legitimate, all-natural CBD extracts. And if you're not ready to commit on the first date, we offer a special 30-day money-back guarantee!
Key Takeaways on Buying CBD in West Virginia
West Virginia is a few steps behind its liberal neighbors when it comes to marijuana policies, but the good thing about the Mountain State is the fast-growing CBD market. Hemp-derived CBD oil is widely available in West Virginia as well as in other 49 states under the amended Farm Bill, so you shouldn't have any problems tracking down a reliable source of CBD locally and online.
Above all, make sure to always do a thorough background check on your potential supplier. There are many great brands selling quality stuff without leveraged prices, but there's an equal number of fly-by-night companies churning out fake and potentially dangerous products.
Being an educated customer will help you save yourself from poor decisions.