If you're looking for high-quality CBD products in Nevada, then you couldn't find a better place to start.
This article covers everything about buying CBD oil in Nevada, from the local cannabis laws to the most reliable suppliers.
Nevada is one of the most progressive states when it comes to marijuana laws. Both medical and recreational uses of marijuana are legal here.
Sounds like a good reason to move to Nevada?
To make it even better, Nevada also has one of the most prominent CBD markets in the United States. Annual imports of CBD products are reaching $500 million. There are tons of options for CBD consumers, both locally and online.
We recommend buying CBD products through a trusted online store because the best deals on CBD oil in Nevada are found on the Internet.
But before we point you to the best CBD suppliers, let's briefly cover the Nevada cannabis laws.
Is CBD Oil Legal in Nevada?
Nevadans and virtually anyone coming to the state in search of CBD oil are in for a real treat.
The Nevada state government allows every form of cannabis, including the recreational use of marijuana.
However, your CBD oil may be subject to slightly different regulations depending on how it was produced.
CBD can be sourced from hemp and marijuana, both of which have different cannabinoid profiles.
Flowering marijuana plants come with considerable amounts of THC. CBD oils made from marijuana can get the user high on top of providing them with the many health benefits.
Hemp, on the other hand, boasts higher levels of CBD and only trace amounts of THC, usually below 0.3%. If you take hemp-derived CBD oil, the chances of getting high are nearly nonexistent.
Let's see how the state of Nevada treats both sources of CBD.
Marijuana CBD Oil in Nevada
Nevada is one of the best places to explore the world of marijuana in the United States. The Silver State allows adults aged 21 and over to possess and purchase up to 1 ounce of marijuana or an eighth of concentrates at one time, including marijuana-derived CBD oil. In Nevada, you're also allowed to gift identical amounts of marijuana to other adults, but personal sales remain illegal. Marijuana is available for adult consumers in state-licensed dispensaries.
Marijuana consumption is limited to private property. Getting caught smoking in public can result in a fine of up to $1000 and even six months in prison.
When it comes to growing marijuana, the rules are similar to those for medical marijuana patients.
Speaking of which…
Can Doctors Prescribe CBD Oil in Nevada?
Yes, if you have a medical marijuana card, you may possess up to 2.5 ounces of marijuana or the equivalent of edibles and extracts, so the limit is higher than for recreational consumers.
Although Nevada's medical marijuana program was introduced in 2000, patients had no option of legally accessing their medication until 2013, when the Nevada Government finally created a framework allowing companies to produce and sell marijuana for medical use.
The first medical marijuana dispensary in the state opened on July 31st, 2015.
If you want to get a medical marijuana card in Nevada, you must be at least 21 years old, have a valid ID, and suffer from one of the following medical conditions:
AIDS
Cancer
Cachexia
Glaucoma
Persistent muscle spasms
Post-Traumatic Stress Disorder (PTSD)
Seizures
Severe nausea
Severe pain
Any other condition for which your doctor believes medical marijuana would be effective as a treatment.
Approved patients may grow up to 12 marijuana plants per household provided that they live further than 25 miles from the nearest dispensary.
Now that we've covered Nevada's marijuana laws, let's see how hemp-derived CBD fits into the above regulations.
Hemp CBD Oil in Nevada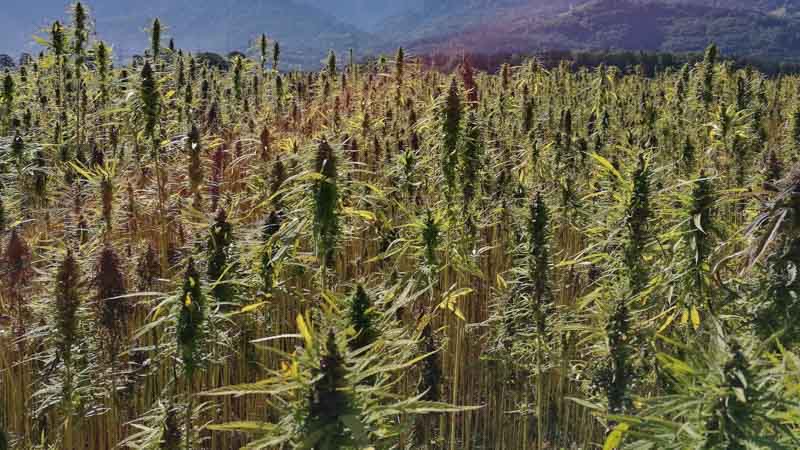 Yes, you can legally purchase hemp-derived CBD in Nevada. In fact, hemp is legal in all 50 states thanks to the amended Agricultural Act of 2018.
The amendment allows farmers to grow, process, and sell industrial hemp for research and commercial purposes. Hemp can be used to make paper, textiles, fuel, food, and health supplements like CBD products.
That's because the 2018 Farm Bill removed hemp from the list of controlled substances, where it was previously held in the same category as LSD and heroin.
Where to Buy CBD Oil in Nevada?
Nevada is one of the best states to purchase quality CBD products in the United States. We generally recommend finding a trustworthy company online. Although finding CBD locally in Nevada is a piece of cake, it's difficult to know if you're getting the right product.
Benefits of Buying CBD Online
Shopping for CBD online is almost always faster and easier than running around the city comparing products and their prices.
If you purchase CBD oil online, you're opening a vault filled with hundreds of products at competitive prices. You can compare different forms of CBD with a few clicks, which is a great time-saver. You can do it in the comfort of your home.
Online products are almost always less expensive than those found locally. Online suppliers offer discount deals, coupon codes, or bulk pricing on CBD oils.
Full Spectrum CBD Oil 1000mg

$149

$129

—

or subscribe and save

15%

Broad Spectrum CBD Gummies 25mg

$99

$79

—

or subscribe and save

15%

CBD Capsules 25mg (Softgels)

$99

$84

—

or subscribe and save

15%
For example, at Royal CBD, we have a loyalty program, where you can collect special crowns and spend them on your next order to save more money on your favorite products or try the new ones for less.
However, if you would prefer to see your products in person, the next section will provide you with a shortlist of recommended local CBD stores in Nevada.
Local CBD Retailers in Nevada
CBD Stores in Las Vegas
Las Vegas ReLeaf
Vape Street Las Vegas
Reef Dispensaries
CBD Stores in Reno
WooCana CBD Oil Reno
The Dispensary NV
Sierra Well
CBD Stores in Henderson
Nevada Made Marijuana
Smoke Vapor CBD Shop
Essence Cannabis Dispensaries
If you don't see your city on the above list, save yourself time and money by shopping for CBD oil online. At Royal CBD, we'll ship your products to Nevada within a few business days.
How to Find Quality CBD Products in Nevada?
The skyrocketing popularity of CBD has made it widely available online and in-store in Nevada.
Unfortunately, the hype on CBD has created plenty of space for sketchy companies that sell low-quality products at leveraged prices, often promising impossible results with their CBD oil.
The first thing you should do before you trust any company with your hard-earned money is to do thorough research.
Here are a few tips that will help you separate the wheat from the chaff.
Make sure that the CBD has been tested by an independent lab. This is by far the easiest way to verify the company's transparency. If your potential supplier is being truthful about its products, they will have no problem showing you the Certificate of Analysis from those tests. Brands that hide their lab reports and don't respond to customers' requests are the brands you should avoid.
If possible, opt for full-spectrum products. Full-spectrum CBD was made using the entire plant, meaning it contains other cannabinoids, terpenes, and flavonoids — all of which can increase some of the benefits of CBD, such as it's anti-inflammatory and analgesic effects.
Avoid any company that makes unrealistic claims about CBD. This is a serious sign that the company's product may fall short of quality. CBD is a great supplement that can help with your overall health, but it's not going to regrow bones or cure cancer.
The hemp source and extraction method are of paramount importance too. At Royal CBD, we use organically grown plants from our local farmers in Colorado. Our proprietary blend of CBD-rich strains is then extracted with supercritical CO2, which is a solventless and heatless method of pulling the beneficial compound from the entire plant. We test the Royal CBD line in third-party laboratories for potency, purity, and quality to make sure you're getting clean products that match their advertised CBD content.
If you're looking for a risk-free method to try out our products, we offer a 30-day money-back guarantee.
Key Takeaways on Buying CBD in Nevada
Nevada is one of the best states for marijuana enthusiasts and those looking for premium hemp-derived CBD products. With all forms of cannabis legal there, you certainly won't run out of options.
Whether you're looking for CBD oil, capsules, edibles, vapes, topicals, or even pet treats, Nevada's local stores have got you covered. However, if you're looking for the best deals on quality CBD in Nevada, we recommend finding a reliable online store that can offer regular discounts and carries a broad selection of products.
Regardless of how you prefer to shop for CBD, always remember to do your research on any company to avoid making hasty decisions and keep sketchy suppliers at bay.