The product choice can be overwhelming for new CBD users. Cannabidiol is available in a plethora of formats, from oils to softgel capsules, vapes, creams, and edibles.
Your choice will usually boil down to your lifestyle and how you prefer to take your dose of CBD.
For most users, unflavored CBD oil is the go-to product, but not everybody is a fan of the tart, earthy taste the oil leaves in their mouth. This is where CBD edibles come into play.
CBD edibles come with several advantages over other popular products. They're convenient and easy to dose that you can try CBD even in your favorite sweet recipes. Edibles are also effortless to make at home, although there's plenty of different CBD treats to choose from online and in-store.
Continue reading to learn more about the advantages of CBD edibles.
What Are CBD Edibles?
CBD edibles are just food infused with CBD. Traditionally, edibles were associated with products containing marijuana. Still, as CBD continues to interfuse with almost all areas of our lives, CBD edibles are becoming a new trend among health-conscious consumers.
Unlike marijuana edibles, CBD-infused food won't cause a high. That's because CBD edibles are mostly sourced from hemp, which contains no more than 0.3% THC.
CBD edibles are also widely legal. You can easily buy them in all 50 states without worrying about having trouble with the law. Most edibles available for sale are sweet gummies and candies. If you're up for savory flavors, then you'll love cooking with CBD; homemade edibles are super easy to make, which we'll cover later in the article.
Where Can You Buy CBD Edibles?
As mentioned, CBD edibles are widely available in the USA. You can find them in cannabis dispensaries, pharmacies, head shops, and health retail outlets. However, if you're looking for the best deals on quality CBD, we recommend placing your order with a reputable online store.
Buying CBD edibles online will save you time and money. It's easier to do your research on any company; you can read lab reports, reviews, and check online rankings for a bigger picture. When you shop online, you can take advantage of discounts, bulk pricing, coupon codes, and reward programs because online stores like ours cut out the middleman.
For example, at Royal CBD, you can join our Royalty Program and earn special crowns with each purchase. You can spend these crowns on your next order to try something new for less or save money on buying your CBD products.
Types of CBD Edibles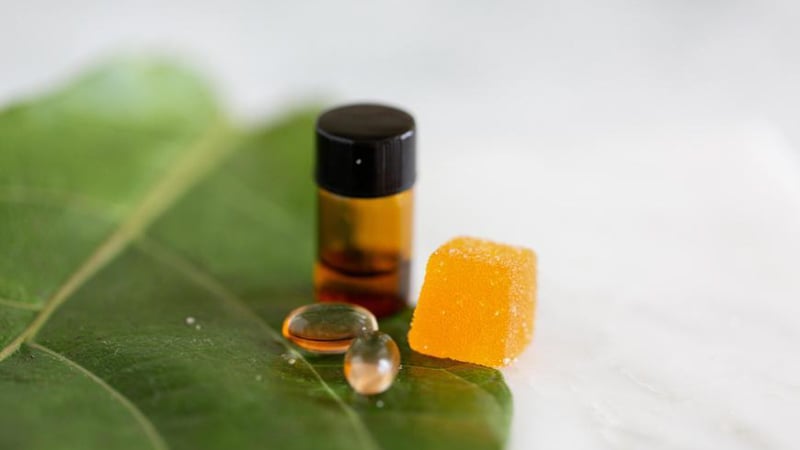 Another advantage of CBD edibles is that you have so many options to choose from. Some edibles are more common than others, but with so many choices, you'll be able to find something that suits both your CBD needs and your taste buds.
Here are some of the most popular options out there:
CBD Gummies
CBD gummies are pretty much the same as the gummies you remember from your childhood, save for one thing — they are infused with CBD. These products come in different shapes, sizes, and flavors, but the most popular are gummy bears. Each gummy carries a fixed dose of CBD; gummies typically come in two potencies — 10 mg or 25 mg — depending on how much CBD you need in your routine. They are delicious and easy to use. You just chew them like regular gummies, and if you need to change the dose, you can either multiply the number of gummies taken throughout the day or cut one in half to reduce the dose.
CBD Protein Bars
Many people use CBD before a workout to enhance focus and calm anxiety. Gym-goers usually go for CBD protein bars, which pack a healthy amount of protein on top of a decent dose of CBD. It's a bonus point if your CBD protein bar also contains hemp seeds, so make sure to check the label before buying.
CBD Dried Fruit
CBD dried fruit is a healthier alternative to sugary treats. This product isn't as popular as gummies, but some companies offer a variety of fruit options to try out. If you want to add a not-so-guilty treat diet, CBD dried fruit seems a viable option.
How Much Time Do CBD Edibles Need to Kick In?
CBD edibles are taken orally, so they need to be processed in your digestive system before the CBD enters your bloodstream.
This isn't a problem with tinctures and vapes. With a tincture, you should feel the calming effects of CBD within around 15 minutes. Vapes offer a much faster onset, usually within minutes after the first inhalation.
An edible, on the other hand, may need anywhere from 30 minutes to two hours to take effect. The time CBD edibles need to kick in is affected by a variety of factors, e.g., your weight, activity level, and whether you take CBD on a full or empty stomach.
CBD from edibles is released gradually, so the effects last longer than with tinctures or vaporized CBD.
However, due to the above first-pass effect in the digestive tract, less CBD enters the bloodstream as a result.
Will CBD Edibles Give Me a Body High?
CBD can't make a person feel high in any way. Products accepted by federal law are derived from hemp, a species of cannabis that contains only a trace amount of THC (0.3% or less). CBD may promote feelings of relaxation and provide a calming sensation to the body, but it won't get you glued to the couch as marijuana products could do.
What Are the Side Effects of CBD Edibles?
CBD has a well-documented safety profile. According to the World Health Organization, CBD is generally safe to take for people of all ages. Even doses as high as 1,500 mg daily are well-tolerated in humans.
With all that said, there are a few mild side effects that some CBD users may experience, including:
Dizziness
Dry mouth
Fatigue
Diarrhea
Changes in appetite
If any of these adverse reactions occur, you probably took too much CBD. Reduce the dose in the following days, and see how your body responds.
Full-spectrum vs. Isolate Edibles
Just like with any other CBD product, you can buy full-spectrum or isolate edibles. Full-spectrum products are made using the entire hemp plant, whereas an isolate contains nothing but pure CBD.
The type of CBD edibles you select depends on your goals with CBD. Since the problem of drug testing is prevalent in North America, some people prefer to take CBD isolate. That's because high doses of full-spectrum CBD taken regularly may lead to a false-positive result for THC on a drug screening.
On the other hand, full-spectrum products are often considered superior to isolates when it comes to the effects. The presence of other valuable compounds in whole-plant extracts is said to accelerate the entourage effect, in which minor cannabinoids and terpenes enhance the benefits of CBD.
Advantages of CBD Edibles
CBD edibles offer a few advantages over other types of products. In this section, we briefly cover each benefit.
Provide Long-Lasting Effects
When you take CBD edibles, the active ingredients are first metabolized in your digestive system. From there, they enter the bloodstream and start sending signals to the brain and other areas of your body, exerting their influence on the endocannabinoid system.
Simply put, you will need to wait a bit longer for CBD edibles to kick in. As mentioned earlier, the effects may take hold after anywhere between 30 minutes and two hours, so remain patient before you decide to take another dose.
There is one benefit to the slower onset of CBD edibles. Namely, they provide long-lasting relief. Since edibles are broken down slowly in the digestive tracts, the CBD is released gradually over time, so you can experience the effects for longer.
Easy to Dose
With CBD oils and vapes, you either need to measure out CBD using a dropper or count how many times you inhale to gauge the right dosage. CBD edibles like gummies make this problem disappear because they contain a pre-measured dose, making it is easier to calculate how much CBD gummies to take. At Royal CBD, we offer CBD edible gummies in two different strengths — 10 mg and 25 mg. The 10 mg option works better with new users who would like to try out different doses without taking it too far. The stronger version packs 2.5 times as much CBD so you can eat fewer gummies to meet your desired dose — and reduce sugar intake at the same time.
Non-Intoxicating
Unlike THC, CBD is non-intoxicating, so it won't produce the euphoric buzz associated with marijuana. CBD has calming and balancing properties, helping you to stay "here and now" without any alterations in your cognition, behavior, and motor skills. For this reason, hemp-derived CBD is legal in all 50 states.
You Can Easily Make CBD Edibles at Home
CBD edibles can be quite expensive, so if you don't want to invest in gummies online, you can make your own edibles at home using hemp flowers, tincture, or isolate powder. There are many delicious healthy recipes for CBD-infused food to try out.
Things to Look for in CBD Edibles
CBD users are faced with almost too much choice today. With so many brands and products available online, it's difficult to choose a trustworthy company that will use organic ingredients and tests its product in third-party laboratories for potency and purity.
The CBD market is largely unregulated. There's a lot of mislabeled products out there; some of them are downright dangerous.
Here's what you can do to make sure you always buy from reliable suppliers:
Check the hemp source: the best CBD edibles are made from organic, non-GMO hemp. Hemp plants are bioaccumulators, meaning they absorb every substance from the environment they are planted in — hence the importance of growing conditions.
Choose CO2-extracted CBD: CO2 extraction is by far the best method to produce CBD extracts. It doesn't require any additional heat or solvents, yielding pure and potent extract without hurting the environment on the way. The equipment required to perform CO2 extraction is also expensive, so if a company uses this method, it's a sign they want to invest in the quality of their products.
Only buy CBD edibles that have been tested by an independent laboratory. Third-party laboratories analyze the CBD content of the product as well as its entire cannabinoid and terpene profile. They will also look for potential contaminants, such as heavy metals, pesticides, or solvents. Reputable companies post the lab results on their website or, at least, make them available on request.
Key Takeaways on the Advantages of CBD Edibles
CBD edibles are a fun way to take care of your daily CBD intake. They have several advantages over other types of CBD. They are tasty, easy to use, discrete, and perfect for travel. Edibles are available in many different types, from gummies to protein bars and dried fruit. You can even make CBD edibles in your kitchen using just a few ingredients.
What kind of CBD edible do you like the most?