There's an ongoing debate on which form of CBD is better — CBD oil or CBD capsules?
Both product types have been around with us for some time, and both address the needs of different types of consumers.
Truth be told, there's no such thing as "the best form of CBD" for every individual. In fact, choosing between CBD oil vs. capsules is a matter of personal preferences, such as one's lifestyle, dosage needs, convenience, bioavailability, etc.
In today's article, we'll focus on the differences between CBD oil vs. CBD capsules to help you make a well-thought-out decision.
But, before we dive into details, here's a quick comparison of both.
CBD Oil vs. Capsules: Comparison Chart
| | | |
| --- | --- | --- |
| | CBD Oil | CBD Capsules |
| Ingredients | CBD extract, carrier oil | CBD extract, carrier oil, soft gel shell |
| Delivery Method | Sublingual (under the tongue) | Oral |
| Bioavailability | ~35% | 5–20% |
| Onset | 15–30 minutes | 30–90 minutes |
| Duration | 4–6 hours | 8–10 hours |
CBD oil usually contains a CBD extract (full-spectrum, broad-spectrum, or isolate) and a carrier oil, such as MCT oil, hemp seed oil, or olive oil. Sometimes, CBD oil contains flavorings or additional ingredients that can enhance or complement the effects of CBD. Capsules contain the same ingredients (but without flavorings) and a shell made from gelatin or vegan ingredients.
CBD capsules are swallowed with water, delaying their effects compared to CBD oil, taken under the tongue. While CBD capsules kick in after 30-90 minutes, CBD oil can produce its effects within 15–30 minutes after administration.
Since the sublingual delivery bypasses the liver, more CBD enters your bloodstream as a result. For oral products like CBD capsules and gummies, the maximum bioavailability has been measured at 20%, while for sublingual products, it can reach 35%.
But, since the CBD is gradually released from the liver, CBD capsules' effects last longer than those produced by the oil.
Now that we've covered the basic differences between CBD oil vs. CBD capsules, let's make sure you know why people supplement CBD in the first place.
Why Take CBD Supplements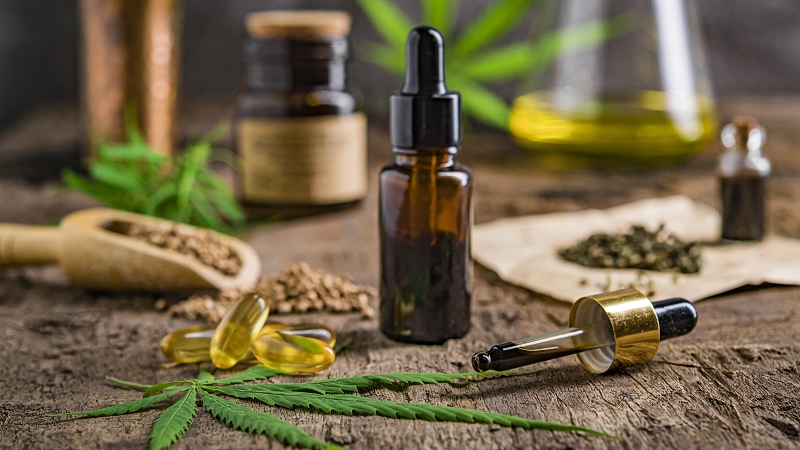 CBD has taken the wellness space by storm. It seems like everybody is using CBD right now, from regular folks to professional athletes to health professionals and A-list celebrities.
It's no wonder that people are turning to CBD for help. CBD regulates the endocannabinoid system (ECS) activity, the major regulatory network in all mammals. The ECS controls memory, mood, attention, sensory perception, body temperature, sleep cycles, fertility, appetite, immune response, and more.
A healthy ECS can maintain homeostasis in all the other systems and organs because it has cannabinoid receptors throughout the body.
By supporting the ECS, CBD may assist in regulating the above functions in a natural and biologically appropriate way.
Studies have found CBD to be potentially effective in easing physical discomfort, reducing stress, boosting immune function, and promoting healthy sleep cycles.
CBD is a versatile health supplement that can improve your quality of life in more than just one way.
That being said, CBD supplements aren't cheap, so you want to make sure that you're getting the most out of your product.
So, what's better: CBD oil or CBD capsules?
CBD Oil vs. Capsules: A Detailed Overview
Before choosing between CBD oil vs. capsules, take your time to map out your priorities.
To begin with, you need to think about the goals you want to achieve with CBD. If you're looking for a product that will suit general supplementation, both CBD oil and capsules will be a good choice.
Okay, now you may feel a little bit puzzled.
What's the point of choosing between CBD oils and capsules if they offer the same benefits?
This is where we need to elaborate on the specific features of both products.
Let's start with CBD oil.
CBD Oil
CBD oil, also known as CBD drops, contains a cannabis extract that has been suspended in a food-grade carrier oil to improve its absorption.
Taking CBD oil is pretty simple. It usually comes in 30-mL bottles with a glass dropper attached. All you need to do is squeeze the desired amount of CBD oil into the dropper, transfer it beneath the tongue, and hold it there for around 60 seconds. You can also swish the oil around your gums to increase the surface area of absorption.
From there, CBD with other cannabinoids and terpenes will travel directly into the bloodstream through the network of tiny blood vessels under the tongue. Then you swallow the rest of the oil.
Unflavored full-spectrum CBD oils have a distinct earthy taste that can also be harsh on the throat. If you don't like the experience, you can mask the taste of CBD oil by mixing it with food and beverages. However, if not done properly, it may deteriorate its bioavailability.
The Pros of CBD Oil
CBD oil is the most common product type available out there. You can choose from a huge variety of potencies, flavors, and formulations, meaning you'll be able to adjust your choice to your needs. It's generally best to start at a low dose, gradually increasing it until you feel the desired effects.
The dropper that comes with CBD oil can help you accurately adjust the serving size to your dosage.
CBD oil offers higher bioavailability than CBD capsules. In other words, more CBD enters your bloodstream from the oil, so you can use a lower dose to experience the same benefits as with oral forms.
Taking CBD oil is pretty straightforward, even for unfamiliar people with the sublingual use of supplements.
The Cons of CBD Oil
CBD oil has a distinct earthy flavor and thick texture. Unless the flavoring has been added, you may not like the way it tastes.
CBD oil drops aren't convenient to carry around. The oil may leak in your bag, which makes CBD oil difficult to travel with.
It's the least discrete way to apply CBD. Having to use a dropper to place CBD under your tongue is anything but comfortable in public.
CBD Capsules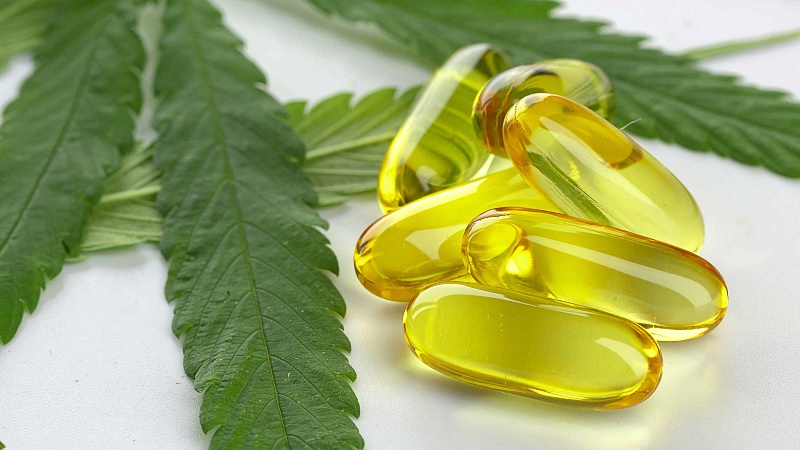 Most health supplements have a capsule form — and CBD goes by the same token.
CBD capsules contain the same ingredient — cannabidiol — but they're more stable than CBD oil. Once extracted from hemp, the CBD extract is infused into a carrier oil enclosed in a softgel capsules. CBD capsules look like any other pill and can be swallowed down with a glass of water, which is why they have become so popular among CBD users.
The Pros of CBD Capsules
Capsules are straightforward to take. If you already take vitamins, it's easy to incorporate them into your supplementation plan.
Dosing CBD capsules is simple since each capsule contains a premeasured amount of CBD.
CBD capsules are perfect for traveling. They won't leak in your bag and aren't subject to the weight limit for hand luggage.
CBD capsules are discrete, and you won't be noticed for taking them at work or in public.
CBD capsules have no odor and flavor, which makes them a good alternative for those who don't like the taste of CBD oil.
The Cons of CBD Capsules
CBD capsules offer lower bioavailability than oils, and they lose some of their potency on their way to the bloodstream.
Capsules are less popular than CBD oils, so you won't have many products to choose from, both in formulations and potency.
The fixed amount of CBD per serving can be problematic for those who use less obvious dosages.
Choosing Between CBD Oil vs. Capsules: Important Considerations
Before making your final decision between CBD oil vs. CBD capsules, ask yourself the following questions:
What are you going to use CBD for? If your needs are closer to regular supplementation and you want to plan your dosage, CBD capsules will be a better option. If, on the other hand, you're looking for more immediate relief, then CBD oil may come in handy.
What kind of doses do you use? Do you take doses like 10, 25, or 40 mg? Or do you use less obvious amounts like 15, 35, or 55 mg? If precision is the name of the game, you may want to consider choosing CBD oil.
How long do you want the effects to last? Capsules need more time to kick in, but their effects can last up to 10 hours. CBD oil usually starts to work within 15-30 minutes, but the effects last shorter — up to 6 hours.
Are you okay with the hempy taste of CBD oil? If yes, you can grit your teeth and choose CBD oil due to its higher bioavailability. If holding CBD oil under the tongue is too much for you, CBD capsules should solve the problem. That being said, you'll need to sacrifice some bioavailability in favor of the odorless format.
Final Thoughts on CBD Oil vs. Capsules
Choosing between CBD oil and CBD capsules is about mapping out your priorities and preferences, which will most affect your lifestyle. Cost isn't a key factor here; other considerations you should consider are ease of use, convenience, dosage precision, bioavailability, duration of effects, and more.
CBD oil might be better if you're looking for precise dosing and if you don't mind the botanical flavor of full-spectrum CBD. Capsules will be a better fit if discreteness and a predetermined dose per serving are on your priority list.
If you've already tried out both forms of CBD, share your experiences in the comments and let us know about your preferences!