If you're wondering where to buy the best CBD oil in Kentucky, we have everything you need to know about the local market and the best online deals.
Kentucky isn't the most progressive state when it comes to cannabis laws, but its residents can legally purchase hemp-derived CBD to benefit from cannabis without the buzz.
CBD is the next big thing in the wellness industry. People turn to CBD oils and other products as a natural alternative for a wide range of ailments, including anxiety, inflammation, stress, pain, and sleep problems.
A high-quality product can greatly improve your daily life, but in a loosely regulated market like this, it's not easy for new consumers to find a reliable supplier.
In fact, many physical stores that offer CBD sell mislabeled products that contain significantly less CBD than advertised. Some of those products may also contain toxic solvents and pesticides due to bad farming practices and lack of laboratory testing.
In this article, we'll help you familiarize yourself with local CBD laws in Kentucky and point you in the right direction to get the best products at reasonable prices.
Is CBD Oil Legal in Kentucky?
Kentucky is one of those states where cannabis regulations are strict, to say the least.
Although many states have introduced more liberal marijuana policies over the past few years, Kentucky refuses to change its stance on the psychoactive variety of cannabis.
The CBD law in Kentucky can vary depending on its source, so in this section, we'll have a brief overview of how the authorities treat both hemp and marijuana.
Marijuana CBD Oil in Kentucky
If the federal government was an influencer and states were its followers, Kentucky would be one of the most faithful ones.
As mentioned, some states such as California or Colorado are very liberal about marijuana use, leading the way for federal legalization.
However, Kentucky perceives marijuana possession illegal. Being caught with even small amounts of marijuana is a class B misdemeanor that can land you in jail for 45 years on top of a $250 fine.
Growing marijuana in Kentucky is prohibited too. If found with up to 4 marijuana plants, you may face up to 12 months in jail and a $500 fine. Another marijuana-related conviction can result in changing the charges to a felony.
Can Medical Marijuana Patients Buy CBD Oil in Kentucky?
Kentucky has a very limited program for medical marijuana patients. If you want to buy marijuana-derived CBD oil there, you need to get a written recommendation from a doctor. However, there's one strict condition; you must suffer from epilepsy and commit to participating in clinical trials of CBD at the University of Kentucky.
Kentucky voters tried to pass a bill that would have legalized marijuana in 2015, but they didn't succeed due to the activity of the Kentucky Baptist Convention and a well-known anti-marijuana group called the National Marijuana Initiative.
Kentucky has a long climb ahead when it comes to legalizing marijuana. Fortunately, the state has already made one step forward in March 2019, when the House Judiciary Committee approved HB 136. This bill would legalize growing marijuana in Kentucky for medical purposes, enabling a network of state-licensed producers and retailers to cultivate, process, test, and dispense marijuana and marijuana products.
Does that mean you can't buy legal CBD oil in Kentucky?
Not at all.
Hemp CBD Oil in Kentucky
Kentucky may not be the best state for marijuana-related activities. That's a bit sad considering that it was one of the first states in the US that started marijuana plantations after William O'Shaughnessy has systematized his research on cannabis and spread it across Europe and both Americas.
Luckily, the state has followed the 2018 Farm Bill and legalized hemp and hemp-derived products for commercial purposes. Farmers can now grow, process, and sell hemp for textiles, industrial use, topicals, and health supplements such as CBD oil.
Hemp is no longer a controlled substance in light of the new law. It's an agricultural commodity.
Where to Buy CBD Oil in Kentucky?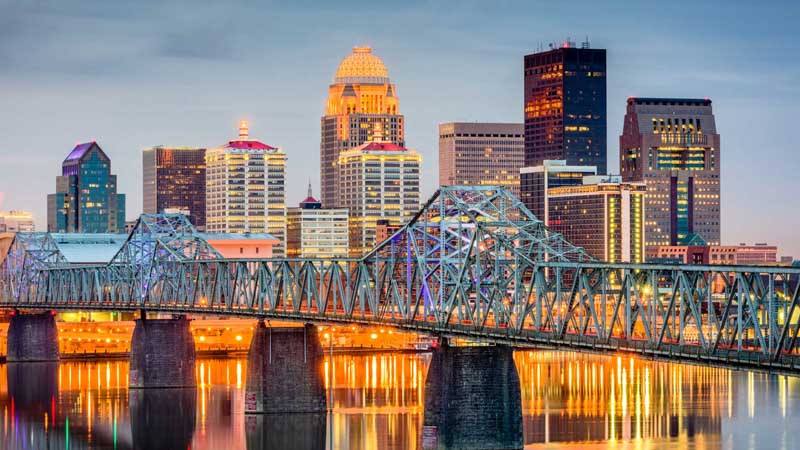 Of course, it's easier to buy CBD oil in states that have legal marijuana markets due to the greater number of suppliers. However, Kentucky has a few options to purchase quality CBD products, both locally and online.
The best way to get decent deals on CBD in the state is through a reliable online store.
Below we highlight the perks of buying CBD oil online.
Why You Should Consider Buying CBD Oil Online in Kentucky
Shopping for CBD online makes it easier to compare products from different brands without having to leave your home. Bouncing between different local stores to find a product that would match your needs is downright cost-prohibitive. Online stores have all the information you need to decide if a product is good or bad. All you need to do is check if a company provides lab reports for its CBD oils to prove their potency and purity.
Full Spectrum CBD Oil 1000mg

$149

$129

—

or subscribe and save

15%

Broad Spectrum CBD Gummies 25mg

$99

$79

—

or subscribe and save

15%

CBD Capsules 25mg (Softgels)

$99

$84

—

or subscribe and save

15%
Another advantage of buying CBD oil online in Kentucky is the abundance of available products. You can choose between tinctures, capsules, creams, balms, edibles, vape liquids, and even products for pets. In-store vendors usually offer 2-3 types of CBD, making your options look sad when compared to what you can find online.
Lastly, and most importantly, online retailers often have coupon deals, appealing discounts, and various loyalty programs you can use to save money on your CBD oils. For example, at Royal CBD, we offer a premium program for returning customers that allows them to collect special crowns and spend them on their next purchases.
Local CBD Stores in Kentucky
Buying CBD oil from a traditional brick-and-mortar store is a good option if you live near a supplier that can deliver high-quality products, which is easier said than done.
In this section, we've put together a list of reputable stores that may satisfy your CBD needs.
CBD Stores in Lousville
Green Remedy
Saffire Vapor Retail Store
CBD Hemp Oil
CBD Kratom Products Louisville
A&A Smoker's Outlet
CBD Stores in Lexington
CBD Energy, LLC
Smoke Palace
Bluegrass Hemp Oil
CBD Stores in Bowling Green
GNC
Vette City Vapes
Saffire Vapor Retail Store
CBD Stores in Owensboro
Horizon CBD
GNC
Clark's Health & Nutrition Center
If you don't find your city on the above list, we recommend finding a trustworthy online store, which is currently the most convenient way to get quality CBD products in Kentucky.
How to Buy CBD Oil in Kentucky?
Whether you're shopping for CBD online or locally, here are a few tips to keep in mind if you want to avoid getting ripped off by sketchy companies.
Make sure to always check the hemp source of your CBD oil. Hemp plants are bioaccumulators, meaning they absorb all the good, but also all the bad substances from their soil. The best hemp comes from farmers that grow their plants in fertile soil and without pesticides, herbicides, or other dangerous additives.
Choose CO2-extracted products. CO2 extraction is the safest and most efficient method for both the user and the environment, as it yields potent extracts without additional heat or solvents.
Check if your product was double-checked by an independent laboratory. Third-party labs can tell you if the product contains the advertised amount of CBD. They can also detect over 200 common contaminants that can compromise the quality of your CBD oil.
Watch out for companies making far-fetched promises about CBD. CBD oil is a wonderful supplement but it's not going to cure you from any disease overnight. If a company makes such claims, this means its product may fall short of quality.
At Royal CBD, we source our CBD from organic hemp grown by farmers in Colorado to provide the cleanest material for our extracts. Our products are made with CO2 extraction to ensure that you always get clean and potent CBD oils. Don't take our word for it; send us a message and we'll send you the lab reports of each product batch available in our online store.
Key Takeaways on Buying CBD Oil in Kentucky
Although Kentucky has a long way to climb when it comes to marijuana legalization, the state has a booming CBD market with local stores popping up every month. However, as the laws regarding cannabis are continuously changing, your safest option to get quality products is through a reputable online retailer.
Whether you decide to shop for CBD locally or online, always make sure to do your research before you trust any company with your money. There's no shortage of mediocre suppliers who will try to sell you a miracle drug for a bargain price. Don't fall into the trap of buying "cheap CBD oil."
At Royal CBD, we ship our products to all 50 states, so if you're looking for the best way to get quality products in Kentucky (and there are no reliable stores near you), you've just come to the right place.