Wondering where to buy CBD oil in Michigan?
The answer is simple: the best deals on premium CBD in the state are found online.
But Michigan in itself is a great place to look for CBD products locally too.
Michigan voters approved marijuana for recreational use in 2018, so whether you're shopping for CBD online or in a physical store, you're in one of the best places in the US to do so.
As the laws in America around cannabis evolve every few months, it's essential that you stay up to date with your local policies.
This article will explain the legal status of different sources of CBD and point you in the right direction to finding the best deals for your money in Michigan.
Let's start with legal matters.
Is CBD Oil Legal in Michigan?
The short answer is yes, all forms of CBD are legal in Michigan. However, slightly different rules apply to both sources of CBD — hemp and marijuana.
The difference between marijuana-derived and hemp-derived CBD oil lies in their chemical makeup.
Marijuana plants are naturally high in THC and contain low-to-high amounts of CBD depending on the strain. CBD oils produced from marijuana flowers will contain considerable levels of THC and can cause the user to get high.
Hemp, on the other hand, has higher concentrations of CBD and only a trace amount of THC (less than 0.3%). CBD products made from hemp can't produce intoxicating effects and thus are treated in a different way by Michigan law.
Let's break down these differences.
Marijuana CBD Oil in Michigan
In November 2018, voters in Michigan passed a marijuana legalization bill that made it possible for adults aged 21 and over to purchase and possess up to 2.5 ounces of weed when away from home. Possession limits within one's property are increased to 10 ounces. Residents of the state can also grow up to 12 plants per household.
Michigan has some of the most lenient laws when it comes to marijuana, so you shouldn't have problems finding quality CBD products there.
The same possession limits and cultivation requirements apply to medical marijuana patients. Michigan first passed a medical marijuana law in 2008 with a 63% majority. The Michigan Medical Marijuana Act also allows any resident to become a licensed medical marijuana grower.
If you want to apply for a grower's license, you must:
Be a resident of Michigan for the past two years
Have no records of previously filing a false application
Have a clear criminal record for the past 10 years
You cannot apply for the license if you're an elected official or a member of the Medical Marijuana Licensing Board.
Hemp CBD Oil in Michigan
As mentioned, CBD is legal to purchase across the Great Lake State in every form.
But unlike marijuana-derived CBD, products made from hemp are legal on the federal level too.
In 2018, the US federal government signed the amended version of the Agricultural Act — known as the 2018 Farm Bill — removing hemp from the list of controlled substances.
People in the United States can legally grow, manufacture, and sell hemp for a wide range of uses, including textiles, paper, fuel, building materials, food, and health supplements such as CBD oil.
You can also transport hemp-derived CBD across state borders, which you can't do with marijuana even if the two neighboring states have legal weed.
Now it's time to move to our CBD oil buying guide in Michigan. But before we point you to the best deals, let's talk about the dos and don'ts of shopping for CBD in general.
Where to Buy CBD Oil in Michigan?
As mentioned, the best deals on CBD products are found online. Although Michigan is a good place to look for CBD oils locally, there are certain perks that you won't find in-store.
Benefits of Buying CBD Oil Online
Shopping for CBD online will make your life easier.
Online retailers offer a huge variety of CBD products, such as tinctures, creams, lotions, wax, vape liquids, pet products, etc. There's no need to drive all around the city to find a product that will suit your personal needs.
Moreover, online stores will send your CBD oil straight to your house in Michigan. You can plan your supplies ahead and order more CBD should you start to run low. Your package will be usually delivered in a matter of days.
Not to mention that shopping online allows you to save money on your CBD products.
Online suppliers don't have to cover the operational costs associated with running a physical store. You can take advantage of special discounts, coupon codes, or special loyalty programs if you're committed to a particular store or brand.
For example, at Royal CBD, each purchase grants you special crowns that you can spend on your next products to reduce their price.
Full Spectrum CBD Oil 1000mg

$149

$129

—

or subscribe and save

15%

Broad Spectrum CBD Gummies 25mg

$99

$79

—

or subscribe and save

15%

CBD Capsules 25mg (Softgels)

$99

$84

—

or subscribe and save

15%
Lastly, it's easier to do your research on the supplier and place your order with confidence. CBD is a health supplement, so you want the best product you can find. Making your purchase online is the easiest way to ensure that your products are the real deal. You can read lab reports, check with other customers, or join social media groups or forums for opinions from experienced users.
However, there are many stores in Michigan that can help you make a well-informed decision for your CBD needs. If you prefer to buy CBD oil locally in Michigan, check our ranking below for a few recommendations.
Buying CBD Oil Locally in Michigan
CBD Stores in Detroit 
The Jazz Club
King Seaweed
Forbidden Fruits Detroit
CBD Stores in Grand Rapids
Grand Rapids Natural Health
The Grassy Knoll
Joost Vapor
CBD Stores in Ann Arbor
Green Planet
Cafe Liv & Wellness
The Green Door
These shops can provide professional advice on CBD products, so you can pay them a visit if you live nearby.
If you don't see your city on the above list, take a look for a reliable source of CBD oils online.
How to Buy CBD Oil in Michigan?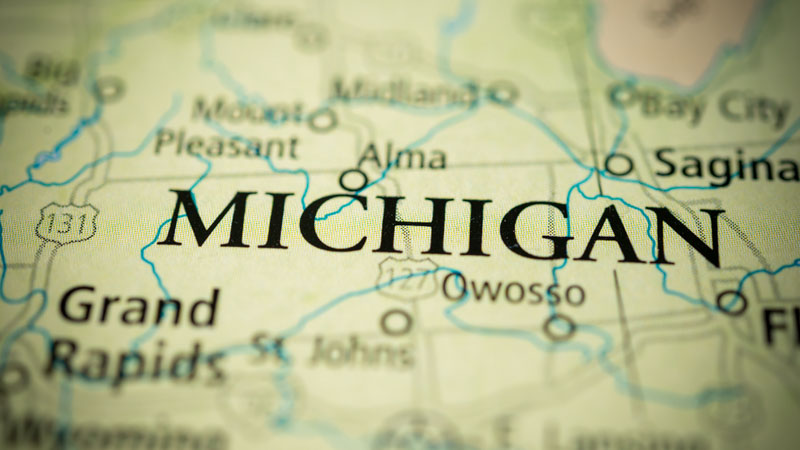 You shouldn't have problems tracking down your favorite CBD oils in Michigan. Now that all types of cannabis are legal, you'll see CBD retailers popping up across the state.
However, you need to take caution when shopping for CBD products. That's because the market is largely unregulated and some companies are using the skyrocketing popularity of CBD to take advantage of uninformed customers.
If you want to avoid fake products, here are a few tips for finding high-quality CBD online and in-store:
Only purchase from brands that send their products to third-party laboratories for testing. The Food and Drug Administration has warned about some CBD products sold locally that have a CBD content close to zero. If you don't want to get scammed into buying from one of these companies, make sure to always check for the lab reports.
Check the hemp source of your product. The best CBD oils you can find in Michigan are made from organic hemp. That's because hemp plants are bioaccumulators, meaning they absorb everything from the environment they grow in.
Choose products that are made using CO2 extraction. CO2 is by far the safest and cleanest method of making CBD products. It doesn't require any extra heat or solvent to extract CBD from the plants. This means that your product shouldn't contain any unwanted chemicals when extracted with carbon dioxide.
Don't fall into the trap of buying "the cheapest CBD oils". The process of making CBD extracts requires precision, high-tech equipment, and well-trained staff that could operate on the machinery. Are you really that naive that there are companies who would sell their products at a loss?
If you want to save time and money on your CBD products, browse Royal CBD's collection of premium CBD oils. Our products are sourced from organically grown hemp in Colorado, which is known for some of the best conditions for growing cannabis plants. We use CO2 in its supercritical state to ensure consistent potency and the highest purity levels in our extracts. You can access the Certificates of Analysis from an independent laboratory upon request to ensure that you're getting exactly what you're paying for. And if you want to try out our products without any risk, we have a 30-day money-back guarantee.
Now that you know how to tell the difference between high-quality and poor-quality CBD, let's focus on the best places to find decent CBD oils in Michigan without breaking the bank.
Key Takeaways on Buying CBD Oil in Michigan
Michigan is one of the best states to buy CBD products due to its liberal laws around cannabis. Adults aged 21 and over can legally purchase marijuana-derived products from state-licensed dispensaries, or grow their own bud if they want to be self-reliant.
Looking for the benefits of CBD but without the buzz associated with marijuana?
Then you certainly won't run out of options in Michigan. Aside from the aforementioned dispensaries, the Great Lake State is home to many vape stores, head shops, and wellness centers that can provide quality products for reasonable prices.
However, we generally recommend finding a trusted online store if you want the easiest and safest way to get CBD in Michigan without even leaving your home. At Royal CBD, we'll ship your package to Michigan in 2-3 business days.
Good luck with shopping for CBD oils!