Looking for quality CBD oil products in Washington? This article will help you understand the state regulations on cannabis and find the best deals online and in-store.
CBD oil has taken the United States by storm due to its wide range of health benefits. People use CBD as a daily supplement as well as to manage a variety of health conditions, including insomnia, pain, inflammation, anxiety, nausea, seizures, and more.
When it comes to buying CBD oil in Washington, the Evergreen State has a very relaxed policy on medical and recreational cannabis. You can buy CBD oil from one of the Washington adult-use dispensaries or head to the nearest head shop or vape store and see if they stock CBD there.
However, before you spend your hard-earned money on any CBD product, it's important to understand the local rules that apply to both sources of CBD — hemp and marijuana — and do your research on the quality standards that every reputable company should employ.
Let's start with the legal status of CBD oil in Washington.
Is CBD Oil Legal in Washington State?
Yes. You can legally buy CBD oil in Washington State, regardless of the source. However, the law has different regulations governing hemp and marijuana.
Here's everything you need to know about Washington and its cannabis market.
Marijuana CBD Oil in Washington State

Washington decriminalized marijuana in 2012 under Initiative 502 (I-502). The state authorities followed through with another groundbreaking legislation several months later, legalizing the recreational use of marijuana.
There are already a few operational dispensaries that sell marijuana and its derivatives, including CBD oil. The Washington law treats cannabis distribution similarly to its policies around the production and distribution of alcohol.
In other words, marijuana CBD oil is legal in Washington provided that it comes from a licensed source.
You can legally possess up to 72 ounces of CBD oil due to its legal classification (marijuana-infused liquid).
Can Doctors Prescribe CBD Oil in Washington?
Yes, Washington State has a medical marijuana program that allows patients with eligible conditions to apply for a medical marijuana card.
Qualifying conditions include:
Appetite loss
Cachexia
Cancer
Cramping
Chronic renal failure
Crohn's disease
Epilepsy
Glaucoma
Hepatitis C
HIV/AIDS
Intractable pain
Multiple sclerosis
Nausea
Post-Traumatic Stress Disorder
Seizures
Traumatic brain injury
Vomiting
Any other condition approved by the Washington Board Health
Once approved by the program, you can possess up to 3 ounces of marijuana, 48 ounces of edibles, 216 ounces of marijuana-infused liquid (CBD oil), and 21 grams of concentrate. You can also grow up to 6 mature plants for personal use and have 8 ounces of usable marijuana produced from homegrown plants.
Hemp CBD Oil in Washington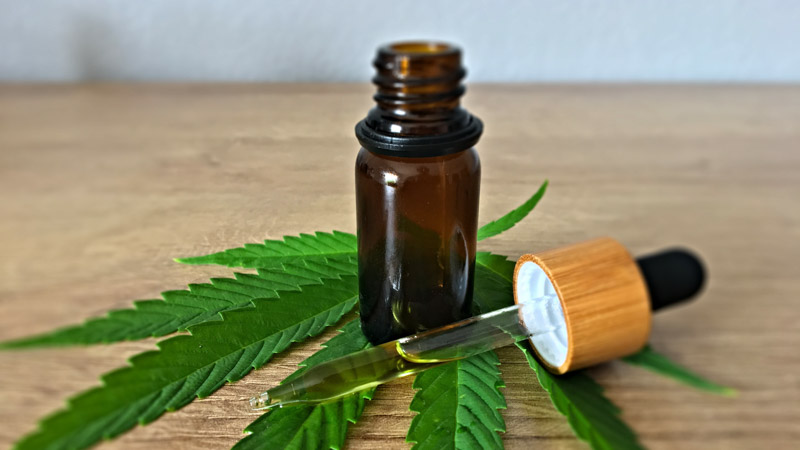 As mentioned, CBD oil can be derived from hemp and marijuana. Although both plants come from the same family — Cannabis sativa L. — they have different chemical profiles and thus can produce different effects.
CBD oil made from flowering marijuana plants will contain a significant amount of THC, so you can get high from using it.
Products made from hemp have higher levels of CBD and only a trace amount of THC, which makes them unable to induce intoxication.
Hemp was federally legalized in 2018 under the new Farm Bill. The new law removed hemp from the list of controlled substances; as an agricultural commodity, hemp plants can be grown for commercial uses, including paper, clothing, fuel, building materials, food, and health supplements such as CBD extracts.
If you want to experience the benefits of cannabis but without the buzz, your best bet is to look for hemp-derived CBD oil in Washington.
Where to Buy CBD Oil in Washington?
Looking for high-quality CBD oil in Washington State?
There are two options — you can shop for it locally or find a reliable online supplier.
We recommend placing your order online because it's the most convenient way to get quality products at reasonable prices.
Benefits of Buying CBD Online
Buying online provides you with valuable information about the company that may be difficult to track down when you shop for CBD oil somewhere locally in Washington. Most online brands will have their third-party testing results posted on their website. You can also read user reviews and reach out to people on social media for advice from experienced customers.
When you look for CBD in-store, you'll realize that it can be expensive. That's because running a physical storefront involves big operational costs — and the prices usually reflect that. Purchasing directly from an online supplier gives you access to discounts, bulk purchase deals, coupon codes, and reward programs. It would be difficult to find them in your local vape store.
For example, at Royal CBD, you can join our Royalty Program, where you earn special crowns with each order; you can later spend these crowns on your next purchase to save more money on your favorite products or try out a new form of CBD for less.
Full Spectrum CBD Oil 1000mg

$149

$129

—

or subscribe and save

15%

Broad Spectrum CBD Gummies 25mg

$99

$79

—

or subscribe and save

15%

CBD Capsules 25mg (Softgels)

$99

$79

—

or subscribe and save

15%
Finally, bouncing between different stores to compare products is a huge time-waster. Shopping for CBD oil online allows you to quickly compare products and their prices from the comfort of your own home.
Long story short, buying CBD online saves you time and money.
Local CBD Retailers in Washington
Washington has hundreds of local shops for anything related to cannabis.
The best place to look for high-quality CBD oil is in your nearest dispensary. These places should hire knowledgeable staff who can answer your questions about CBD and help you pick the right product for your situation.
Here's our list of recommended local stores where you can find CBD oil in Washington:
CBD Stores in Seattle
The Green Door Seattle
Seattle Tonics Pot Shop
American Mary
CBD Stores in Spokane
The Source CBD
Royals Cannabis
Sativa Sisters
CBD Stores in Tacoma
Bright Day CBD
Mary Mart
Clear Choice Cannabis
If you don't see your city on this list, you can head to your local vape store or look for CBD online.
How to Find Quality CBD Products in Washington?
If this is your first time shopping for CBD oil in Washington, you need to do your homework about the quality of CBD products. The market is largely unregulated and there are lots of companies preying on uneducated customers.
Here are a few steps that will help you distinguish between high-quality and low-quality CBD:
Only purchase from companies whose products have been tested by a certified lab. Third-party testing is the only way to ensure that your product contains the advertised amount of THC and is free of any unwanted additives, such as pesticides, heavy metals, and solvents. If a company doesn't provide these lab reports, they probably have something to hide.
Look for Full-spectrum CBD. Full-spectrum refers to hemp extracts made with the entire hemp plant. Unlike isolates, full-spectrum extracts contain other beneficial compounds from hemp, including minor cannabinoids, terpenes, and flavonoids. These compounds help your body process CBD more efficiently.
Choose CO2-extracted products. CO2 is by far the best method to produce CBD oils because it doesn't require additional heat or solvents. Therefore, it's safe for both the consumer and the environment. The equipment required to perform CO2 extraction is also expensive, so it's a sign that a company is committed to quality.
Organic is the way to go. The organic hemp plant yields the best material for CBD oil extracts. Hemp plants are bioaccumulators, meaning they absorb every substance from the environment they grow in. Organic, non-GMO hemp will yield CBD-rich flowers without contaminants.
Avoid companies making claims about CBD that seem too good to be true. CBD is great as a health supplement, but it's not going to cure cancer or mend broken bones. If you see a company selling CBD oil with such claims, it's probably a scam.
At Royal CBD, we use organic hemp from Colorado to make our extracts. The entire Royal CBD line is made using CO2 extraction, which allows us to maintain consistent potency and purity levels in each batch without hurting the environment on the way. The Royal CBD collection includes CBD oil, softgel capsules, gummies, and topicals. We rigorously test our products in a certified laboratory, making the test reports available upon request.
And if you're not ready to commit on the first date, we offer a special 30-day money-back guarantee!
Key Takeaways on Buying CBD Oil in Washington
Washington State is a wonderful place to live if you're a cannabis enthusiast. Since marijuana legalization back in 2012, cannabis products are widely available on almost every corner. CBD fits into this trend as well.
Many of marijuana dispensaries in Washington offer marijuana-derived and hemp-derived CBD oil. This is an excellent way to get quality CBD products in Washington if you want to shop for them locally.
If you want to save some money and time on your order, we always recommend visiting an online store. Online retailers offer better deals on CBD oils than local suppliers, and they don't even require you to leave home.
No matter how you decide to shop for CBD in Washington, make sure to do your research about any company you want to purchase from. Being an educated customer will protect you from fly-by-night companies.