Montana isn't the most tolerant state when it comes to marijuana laws, but the state has a few reliable places where you can find quality CBD products. In fact, Montana's hemp industry is growing at a fast pace, so you shouldn't have problems tracking down a reliable source of CBD oil, especially when shopping online.
Montana has a complicated history with cannabis, so it's essential that you research the local laws before heading down to your local CBD store.
In this article, we explain the regulations around different types of CBD and provide a buying guide for first-time consumers looking to get their hands on quality products at fair prices.
Here's everything you need to know about the legal status of hemp-derived and marijuana-derived CBD oil in Montana.
Is CBD Oil Legal in Montana?
Whether your products are considered legal depends on how they were made, or rather, what type of cannabis was used in the process.
CBD can be extracted from hemp and marijuana, both of which have different chemical profiles and thus are subject to different regulations.
Flowering marijuana plants contain significant amounts of THC, so CBD oils made from this type of cannabis can get the user high on top of the many health benefits it comes with.
Hemp, on the other hand, contains higher levels of CBD and only trace amounts of THC — usually less than 0.3%. Hemp-derived products can't induce intoxication and are treated differently by the Montana laws.
Below we explain these differences.
Marijuana CBD Oil in Montana
Marijuana is illegal for recreational use in Montana. If caught with marijuana for the first time, you can face a fine between $100 – $500 and up to six months in jail. Any subsequent marijuana-related charge can land you in prison for up to three years on top of a $1000 fine.
Can Doctors Prescribe CBD Oil in Montana?
Montana legalized medical marijuana under a ballot initiative in 2004. House Bill 161 received approval from 61% of the voters. The program is known as the Montana Medical Marijuana Allowance and provided a legal framework for marijuana sales to patients with debilitating medical conditions.
The list of qualifying conditions include:
Admittance into hospice care
Cachexia (Wasting Syndrome)
Cancer
Chronic muscle spasms
Crohn's Disease
Epilepsy
Glaucoma
HIV/AIDS
Intractable nausea
Multiple sclerosis
Peripheral neuropathy
Post-traumatic Stress Disorder (PTSD)
Severe chronic pain
If you have one of the above conditions, you can make an appointment with your family doctor, who may give you a recommendation for medical marijuana treatment.
Montana's medical marijuana program also allows patients to grow up to 4 flowering plants and possess up to an ounce of prepared weed.
How does hemp-derived CBD fit into Montana's cannabis laws?
Hemp CBD Oil in Montana
Hemp cultivation and the production of hemp products are federally legal under the Agricultural Act of 2018.
Hemp is no longer a controlled substance; it's an agricultural commodity.
Industrial hemp plants can be used to make fuels, paper, food, clothing, and supplements such as CBD oil.
Therefore, CBD products made from industrial hemp are legal in all 50 states.
Now, there are tons of CBD products that you can find online and locally, so it can be difficult to find the good stuff and weed out the bad, especially if you've never bought CBD before.
Doing your research on the company will save you time and money.
Here are a few tips to remember when shopping for CBD.
Where to Buy CBD Oil in Montana?
Montana's CBD market is growing pretty fast, with CBD stores popping up every month in its largest cities. However, if you want to get the best deals on quality products, we generally recommend looking for a reliable online store.
Benefits of Buying CBD Oil Online
You can easily do a background check on the company to make sure you're getting the best product for your needs. There are lots of information about the quality of CBD oil out there; you can read blogs, check the lab reports of the product you're interested in, or ask experienced users on social media groups or forums for advice.
Online stores usually offer better prices. You'll quickly notice that CBD oil sold online is far cheaper than in your nearest head shop. That's because online stores don't have to cover the operational costs that in-store vendors have to pay on a regular basis. Additionally, the supplier can offer coupon codes, bulk pricing, and other discount deals.
For example, at Royal CBD, we offer the Royalty Program where customers can earn special crowns with each order and spend them on their next purchases to save more money.
Full Spectrum CBD Oil 1000mg

$149

$129

—

or subscribe and save

15%

Broad Spectrum CBD Gummies 25mg

$99

$79

—

or subscribe and save

15%

CBD Capsules 25mg (Softgels)

$99

$84

—

or subscribe and save

15%
The availability of products is much greater online than locally. In-store vendors have limited shelf space, meaning they may only offer one or two different types of CBD. This isn't a problem with online stores. You can find many products for different types of consumers, including tinctures, oils, vape liquids, topicals, concentrates, and even pet products.
If you'd rather shop in-store for your CBD oil in Montana, we've compiled a list of the most reputable local stores. The staff there should be able to point you in the right direction and answer your questions about CBD.
Local CBD Stores in Montana
If you have a medical marijuana card, the best option for finding quality CBD products in Montana is through your nearest dispensary. These places generally hire well-informed staff that will have the best information about CBD and what will work for your case.
However, if you're not a medical marijuana patient, don't worry. The stores below should carry high-quality CBD oils from hemp that doesn't require you to have a prescription.
CBD Stores in Billings
B-town Vapes
Discontent Lifestyle
Old Skool Vape Society
CBD Stores in Great Falls
Montanajo Ecig
Sherlock's Home
Vaporology Vape Shop
CBD Stores in Missoula
Storm Cloud Vapors
Raja's Smoke Shop
The Vape Shop
How to Buy CBD Oil in Montana?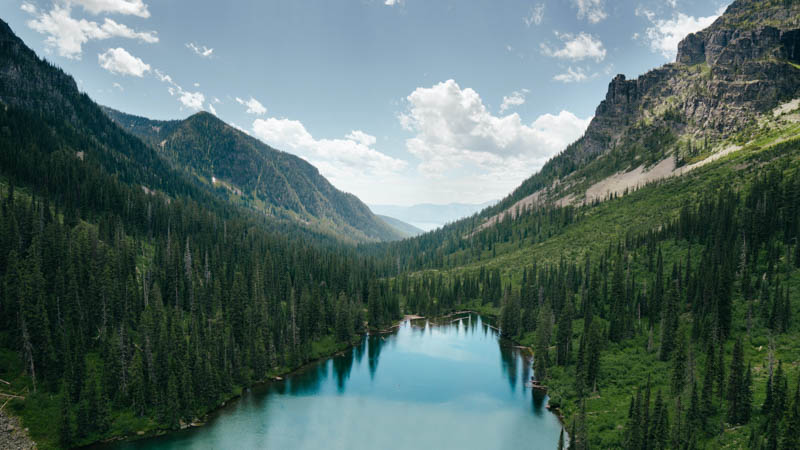 If you want to get the best deals on CBD oil in Montana, there are a few important things you should keep in mind. The CBD industry is largely unregulated, and there are a lot of poor-quality suppliers trying to cash in on the booming market.
1. Only Purchase from Companies that Can Provide Third-Party Lab Reports
Third-party testing is the first thing you should be looking for when buying CBD oil in Montana. These lab reports can tell you if the company is honest about the CBD potency in its products and whether or not they use potentially harmful chemicals such as pesticides or heavy metals. If a company can't show you lab reports, it's a company to avoid.
2. Choose CO2-extracted CBD
CO2 extraction is by far the safest way to produce CBD oil because it doesn't require additional solvents or heats. This means that the final extract is kept as pure as possible. CO2-extracted products are usually more expensive because the technology required isn't cheap. On the other hand, it's a sign that the company is committed to quality.
3. Look for Full-Spectrum Products
Full-spectrum means that the CBD oil was made using the whole plant. CBD isolates, on the other hand, capture only parts of the plant. When the whole plant is used, the extract maintains more beneficial cannabinoids as well as terpenes and flavonoids that interact with CBD to enhance its effects in certain aspects, e.g. in pain transmission and inflammation.
4. Avoid suppliers making unrealistic claims about CBD
As you look for CBD oil in Montana, you'll likely stumble upon brands making bold statements about what CBD can cure. Despite being a great health supplement, CBD won't cause your limbs to regrow or cure cancer in a matter of days. Don't trust companies making these types of promises. They're likely trying to make a quick buck off of uneducated customers.
With the above tips in mind, you should be ready to place your first order.
The question is, where do you want to look for CBD oil in Montana?
Key Takeaways on Buying CBD Oil in Montana
Montana doesn't have the best laws for recreational marijuana users, but that shouldn't stop you from finding a reliable source of CBD in the state.
If you're looking locally, there are two options. Patients with medical marijuana cards can access marijuana-derived CBD oil from one of the licensed dispensaries in Montana. If you don't have a medical card, you can still shop for CBD products from hemp. There are plenty of stores that can point you in the right direction to finding the right form of CBD for your needs.
We always recommend buying CBD oil online because it gives you access to a wider selection of products and is generally less expensive than shopping for CBD locally.
Not to mention that you can order CBD oil online whenever you want, even when sitting at your laptop in pajamas at 1 AM.
Regardless of the chosen method, make sure to always do your research on CBD companies to avoid scammers.