Minnesota is one of those states where you can find a wide range of CBD oils and other products made from hemp.
If you want to legally purchase CBD oil in Minnesota without prescription, your best bet is to buy hemp-derived products from a reliable online store.
CBD can greatly improve your daily life when sourced from high-quality material and extracted without unnecessary additives. People turn to CBD oil as an alternative for relieving pain, anxiety, inflammation, seizures, and more.
This article explains the legality of different types of CBD in Minnesota. We'll also point you in the right direction for finding the best products for your money in the State of 10,000.
Let's start with the current legal status of CBD oil.
Is CBD Oil Legal in Minnesota?
Whether CBD oil is legal in Minnesota depends on its source.
CBD can be extracted from hemp and marijuana. While both plants belong to the same family (Cannabis sativa L.), they are different when it comes to their chemical profile.
CBD oils produced from flowering marijuana plants will contain a significant amount of THC. Such products can get the user high and are subject to different regulations in Minnesota than their hemp-derived counterparts.
That's because hemp contains only traces of THC, which isn't enough to produce intoxicating effects associated with marijuana consumption. Hemp-derived products are naturally higher in CBD.
Below we explain the legal fog around CBD in Minnesota.
Marijuana CBD Oil: Who Can Buy It in Minnesota?
Marijuana is only legal for medicinal use for patients suffering from one of the qualifying conditions.
If you don't have a medical marijuana card and get caught with marijuana, you will face criminal charges.
Possession of fewer than 42.5 grams is considered a misdemeanor, punishable with a fine of $200 and a possible drug education program.
Anything over 42.5 grams is a felony, and you can face up to 5 years in jail on top of a $10,000 fine.
Let's take a look at your options to buy legal marijuana CBD oil in Minnesota.
Can Doctors Prescribe CBD Oil in Minnesota?
State-registered doctors aren't allowed to prescribe CBD oil because the FDA doesn't acknowledge cannabis-derived CBD as a medication. Regular doctors can only prescribe Epidiolex — an anti-seizure drug based on synthetically isolated CBD.
However, CBD products can be recommended by a medical marijuana doctor. Patients registered in the state's medical marijuana program can apply for a medical marijuana card and get a prescription for CBD and other derivatives of marijuana.
If you want to join the Minnesota medical marijuana program, you must have one of the following conditions:
ALS
Autism
Cancer
Crohn's disease
Glaucoma
HIV/AIDS
Intractable pain
Post-traumatic Stress Disorder (PTSD)
Seizures
Sleep apnea
Severe and persistent muscle spasms
Terminal illness with a life expectancy of less than one year
Once you have received your medical marijuana card, you can buy CBD oil in one of the Cannabis Patient Centers in Minnesota.
What if you don't have a doctor's recommendation?
Don't worry, there are still a few options to get quality CBD products in the state.
Hemp CBD Oil in Minnesota
Hemp-derived CBD is legal in all 50 states.
In 2018, the US federal government removed hemp from the list of controlled substances by introducing the amended version of the Agricultural Act of 2014.
American farmers can grow, process, and sell hemp for a wide range of uses, including paper, clothing, biofuel, construction materials, food, and health supplements such as CBD oil.
Although CBD oil is easily available in Minnesota, the industry lacks regulation and some companies are trying to take advantage of uneducated customers.
Here's how to protect yourself against such companies:
Make sure a third-party lab has tested the products. Outside labs can verify the potency of CBD and tell you if there are any impurities or unwanted additives in the product.
Opt for CO2-extracted CBD oils. CO2 extraction is by far the best method to achieve clean, full-spectrum extracts without using additional heat or solvents.
Choose full-spectrum CBD products. If the product is labeled as "full-spectrum", that means the CBD was sourced using the entire plant. This process captures additional cannabinoids, terpenes, and other beneficial compounds that enhance some of the health benefits of CBD, mostly its anti-inflammatory and analgesic properties.
Check the hemp source of your CBD oil. Hemp plants are bioaccumulators; in other words, they absorb every substance from the soil and air they grow in. The best CBD products in Minnesota are those made from organic hemp plants, preferably from American farms.
Watch out for companies that make extravagant claims about CBD. If a company claims its products cure cancer or relieve health problems within a matter of days, it's a sign that they're not honest and something might be wrong with the quality of their CBD.
At Royal CBD, we have a clear mission, which is to provide premium-quality products at reasonable prices for different types of CBD users. Our CBD comes from organically grown plants supplied by our local farmers in Colorado. Using CO2 extraction allows us to deliver consistent concentrations of CBD in every batch of product. To ensure that we don't cut corners in terms of quality, we send our CBD extracts to third-party laboratories for content analysis. You can access the Certificates of Analysis from the lab upon request. We also have a 30-day money-back guarantee for those who want to try out our products in a risk-free way.
Where to Buy CBD Oil in Minnesota?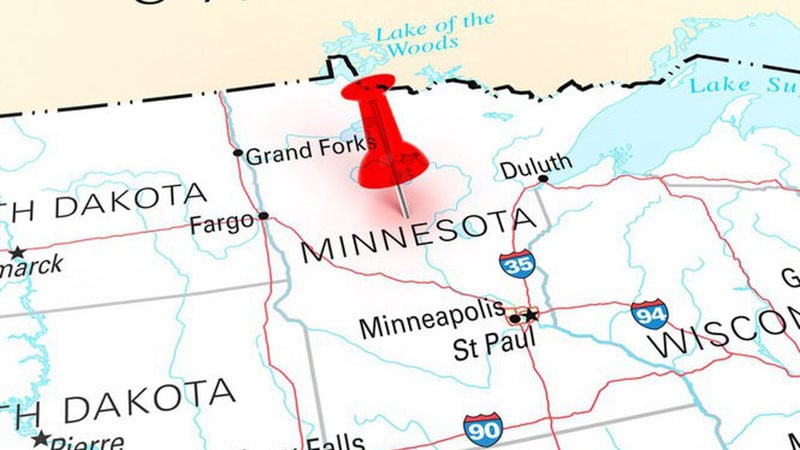 Minnesota has a few reputable CBD stores spread in its largest cities, but the best deals on premium products are found online.
Below we cover the benefits of shopping for CBD in online stores.
Good Reasons to Buy CBD Oil Online
There's a wider range of products sold online. In-store, you may only be able to choose between 2-3 forms of CBD. Shopping online gives you access to tinctures, capsules, creams, waxes, lotions, vape liquids, and even pet products.
You can shop anytime, anywhere. Whether you're starting to run low on your CBD supplies and want to refresh them, or you simply don't feel like driving around the city to get the product you're looking for, buying online is the best way to buy quality CBD in Minnesota
Online stores offer better deals on CBD. You can use coupon codes, occasional discounts, or join loyalty programs to save money on your purchases. At Royal CBD, we offer the Royalty Rewards Program providing you with special crowns upon placing each order. You can spend those points anytime in the future
Full Spectrum CBD Oil 1000mg

$149

$129

—

or subscribe and save

15%

Broad Spectrum CBD Gummies 25mg

$99

$79

—

or subscribe and save

15%

CBD Capsules 25mg (Softgels)

$99

$84

—

or subscribe and save

15%
We always recommend buying CBD through a trustworthy online store. However, if you prefer to shop for CBD oils in local stores in Minnesota, take a look at our list below and see if you can find your city there.
Local CBD Retailers in Minnesota
CBD Stores in Minneapolis
Wellness Minneapolis
Smokeless Smoking
The Green Machine
CBD Stores in St. Paul
Nothing But Hemp
Imperial Vapor
Smokes Vapor Zone
CBD Stores in Rochester
CBD of Rochester
The Melting Clock
Med City Vapors
Key Takeaways on Buying CBD Oil in Minnesota
If you want to buy quality CBD oil in Minnesota, the best way is to find a reliable online store because Minnesota's current marijuana laws can make it difficult to find a decent local supplier.
If you have a medical marijuana card, you can look for CBD oil in your Cannabis Patient Center. But if you want greater freedom of choice — without the psychoactive buzz — we recommend shopping for hemp-derived products.
CBD oils produced from hemp are federally legal due to their nearly nonexistent THC content (0.3% or less). You can order your products from all over the states, even if the company you're interested in isn't located in Minnesota. At Royal CBD, we usually ship all orders to Minnesota within 2-3 business days so that you can get premium CBD from the comfort of your home.
Whichever method you choose, always make sure to do your research on your potential supplier. Being an educated customer will help you make informed decisions and avoid scammers.