Wondering where to buy CBD oil in Mississippi? Although the Magnolia State isn't the most marijuana-friendly state, there are still plenty of options to benefit from CBD without the psychoactive buzz.
As the popularity of CBD continues to rise due to the growing body of scientific evidence supporting its therapeutic potential, more people than ever turn to CBD oils as a natural and safe alternative to their ailments.
CBD can help in the management of various symptoms, from anxiety to pain, inflammation, seizures, sleeplessness, and more.
However, not all CBD oils are made the same, and the legal status of a particular product depends on how it was produced.
In this article, we'll focus on the cannabis laws in Mississippi on top of providing you with our buying guide for first-time consumers.
Let's start with the legality of CBD.
Is CBD Oil Legal in Mississippi?
Whether your CBD oil is legal in Mississippi depends on its source.
CBD can be extracted from hemp and marijuana. Both plants belong to the Cannabis sativa L. family, but they are different when it comes to their chemical makeup.
Marijuana contains significant concentrations of THC, meaning it can cause the user to get high on top of the many health benefits it offers.
Hemp, on the other hand, has higher levels of CBD and only trace amounts of THC — usually at 0.3% or less.
Below we explain how the Mississippi law treats both forms of CBD.
Marijuana CBD Oil in Mississippi
Marijuana remains illegal for recreational use in Mississippi, although the state has decriminalized possession of small amounts of marijuana.
Decriminalization means that you won't be put into jail for having a small amount of weed on you if this is your first offense. First-time marijuana offenders in Mississippi are subject to a fine of up to $250.
If you already have a criminal record and get caught with weed, you can spend a minimum of 5 and a maximum of 60 days in jail and a fine between $250 – $500.
Any amount higher than 30 grams is punishable with a $1000 fine and up to one year in jail.
Penalties for concentrates are even worse. Get caught with more than 0.1 gram of hash, and BOOM! You have a mandatory two-year jail sentence to serve.
Can They Legally Buy CBD Oil in Mississippi?
Yes, but only under certain circumstances.
There is no medical marijuana program in Mississippi. The state only allows people suffering from a catastrophic seizure disorder or intractable epilepsy to purchase marijuana-derived CBD oil. If you qualify, you need to make an appointment with your doctor and they can recommend CBD oil as your treatment.
However, Mississippi only allows CBD oils that contain no more than 0.5% of THC and at least 15% of CBD.
Medical conditions other than treatment-resistant epilepsy aren't supported by the Mississippi government.
Hemp CBD Oil in Mississippi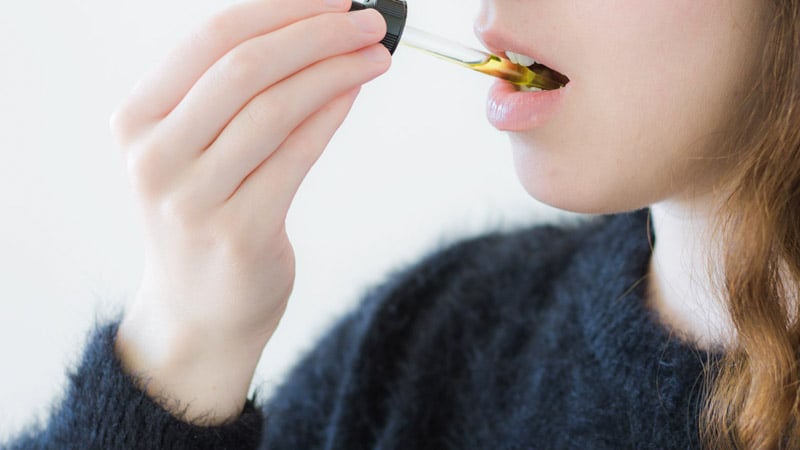 Unlike marijuana-based products, hemp-derived CBD oil is legal in Mississippi.
In 2018, President Trump signed the amended version of the Agricultural Act of 2018 (the Farm Bill), removing hemp from the list of controlled substances.
Hemp became legal on the federal level on that day. US farmers can now grow, process, and sell hemp plants for a variety of purposes, including paper, clothing, fuel, food, and health supplements such as CBD oil.
Individual states have the right to accept or challenge the federal law, placing their own limits on the labeling and availability of CBD.
Fortunately, Mississippi hasn't introduced any legislation that would regulate hemp in the state, and nothing seems that would change in the future.
Now that we've cleared up the confusion around different sources of CBD, let's talk about some important considerations before buying CBD oil in Mississippi.
Where to Buy CBD Oil in Mississippi?
Mississippi is definitely behind most states when it comes to marijuana policies, so local cannabis markets are not as well developed as in, say, California or Colorado.
Therefore, your best bet to get high-quality products legally and without breaking the bank is to find a reliable online supplier.
Below we explain why it's better to shop for CBD online these days, especially in states like Mississippi.
Benefits of Buying CBD Oil Online
Online stores offer a wider selection of different CBD formats and even better prices than in-store vendors. CBD is available as tinctures, lotions, capsules, edibles, vape liquid, topicals, and pet products — you can easily find all those products online.
If you're looking for CBD on the Internet, your favorite store should be able to deliver your CBD products to your doorstep within a few days. You don't need to drive around the city just to compare different CBD oils. You can do it in the comfort of your home, whenever you desire.
You should also be able to quickly track down more details about the company online, which may be difficult if you shop in-store. Shopping for CBD online allows you to read third-party lab reports, check the company's reputation among other customers, and browse social media groups or forums to get advice from experienced users.
Full Spectrum CBD Oil 1000mg

$149

$129

—

or subscribe and save

15%

Broad Spectrum CBD Gummies 25mg

$99

$79

—

or subscribe and save

15%

CBD Capsules 25mg (Softgels)

$99

$84

—

or subscribe and save

15%
Lastly, shopping online is the least expensive way to find quality CBD oil in Mississippi. Online stores don't have to cover the operational costs associated with running a traditional brick-and-mortar store, so they can offer discount prices and special offers that you likely wouldn't find in the majority of CBD stores in Mississippi.
For example, at Royal CBD, we have a loyalty program for returning customers. They can collect special crowns and spend them on the next purchase to save money on their favorite products or try something new from our line.
Local CBD Stores in Mississippi
If you're one of the few people who would prefer to shop for CBD oil in a traditional way and see what the state of Mississippi has to offer, you can take a tour around the local stores listed below. They should be able to point you in the right direction.
CBD Stores in Jackson
Havana Smoke Shoppe
Planet of the Vapes
Churchill Smoke Shoppe
CBD Stores in Gulfport
Your CBD Store
Ya Ya's
GC Vapors
CBD Stores in Southaven
Your CBD Store
The CBD Store of Southaven
Blue Whale Vapor
If you don't find your city on the list, there are always quality CBD products available online. At Royal CBD, we ship our premium extracts to all 50 states within 2-3 business days.
How to Buy CBD Oil in Mississippi?
The CBD industry is largely unregulated, with a lot of companies churning out fake products that sometimes contain no CBD at all. Some of them come with unwanted additives or dangerous chemicals such as pesticides or solvent residue.
Doing your research about the company and the quality standards for CBD products can save you time and money. Follow these tips to ensure that you're getting a high-quality product with every purchase.
Only purchase from companies whose products were double-checked by an outside laboratory. Third-party labs check the amount of CBD in the extract and can tell you if it contains any unwanted additives or chemicals. It's the only way to see what's inside the bottle without testing the product yourself.
Never buy from brands that make outrageous claims about its products.  CBD is a versatile health supplement that can relieve many different symptoms and help you on your way to recovery. However, it's not going to cure cancer overnight. Any company claiming that CBD is a miracle drug is a company you should never trust.
Make sure to check for the "low-THC stamp". In states like Mississippi, where marijuana laws are strict and can lead to severe penalties, there are high chances of buying a mislabeled product whose THC content will breach the federally accepted limits.
Opt for full-spectrum products. Full-spectrum CBD is generally better than isolates because they're made using the whole plant. This means that other beneficial compounds, including other cannabinoids, terpenes, and flavonoids, will be captured. Isolates only use pure CBD; without these compounds, it may not be as effective as full-spectrum CBD.
Choose CO2-extracted CBD. CO2 extraction is by far the safest method to pull CBD and other beneficial molecules from the source plant. It doesn't require any additional heat or solvents, yielding clean and potent products.
At Royal CBD, we have partnered with local farmers in Colorado to create our own blend of CBD-rich strains that are grown organically, without the use of pesticides or growth boosters. Then we run the plant material through pressurized CO2 in order to achieve the highest purity levels and consistent concentrations of CBD in each batch. Our products are rigorously tested by a third-party laboratory to ensure the potency of CBD matches the advertised amount on the bottle, with no contaminants that could compromise the quality of the Royal CBD oil.
If you've already burned yourself a few times buying CBD oil from unverified sources, we also offer a 30-day money-back guarantee, ensuring a risk-free way to try out our premium extracts.
Key Takeaways on Buying CBD Oil in Mississippi
Mississippi has some of the harshest marijuana laws in the country. If you want to legally purchase marijuana-sourced CBD oil in the Magnolia State, you must have an intractable form of epilepsy. Otherwise, your marijuana use is considered recreational and thus illegal by state legislation.
Fortunately, that doesn't mean Mississippi has banned every form of cannabis. If your CBD oil is made from hemp and contains less than 0.3%, you can legally buy it without a marijuana-derived CBD prescription. CBD oil is widely available at local stores and online, where you can find the best deals on CBD products made from premium-quality ingredients.
If you want to buy CBD oil in Mississippi, make sure to always do your research on any company before trusting them with your money. Being an educated customer will help you weed out shady vendors and always choose the right product for your CBD needs.
Good luck shopping!