The easiest way to absorb CBD is probably through oil and gummies. 
If you're one of the many people who have been asking, "What's the difference between CBD oil and CBD gummies?" then you have come to the right place. 
Today we'll go through the benefits, ingredients, and bioavailability of these two types of CBD.
CBD Oil vs. CBD Gummies: Product Definitions
First, we have the appealing CBD edible gummies, which contain some form of CBD extract. They are candy gummies that are typically sold in packs. 
CBD  oil is a liquid containing cannabidiol (CBD) extract commonly offered with droppers in tiny glass vials. CBD oil is also referred to as CBD oil tincture sometimes. Both products had made it to the headlines as consumers believe they helped in various ailments involving physical discomfort and mental health issues.
CBD Oil vs. CBD Gummies: What Are the Benefits of Full Spectrum Products?
Despite the fact that CBD gummies and CBD oil are in distinct forms, both contain the same CBD.
It is recommended that when searching for CBD products, you go for ones that include full-spectrum CBD. CBD is present in a full-spectrum oil — one that contains other helpful constituents of the hemp plant, such as terpenes in plants and other cannabinoids.
When these compounds are merged, they work synergistically to provide a more extensive scope of health benefits, a phenomenon known as the entourage effect.
Broad-spectrum, on the other hand, maybe used more these days because it is THC-free. Some individuals prefer this choice since it goes through an additional filtration process to remove those tiny amounts of THC from the oil. Trace amounts of THC (less than 0.3 percent) may be inconvenient if you take a drug test because the trace amount can potentially result in a false positive if you take large doses daily. The entourage effect is still existent with broad-spectrum. It's just not as impactful as with full-spectrum CBD.
CBD Oil vs. CBD Gummies: Ingredients and Formulation
CBD gummies have unquestionably captured the attention of consumers due to their appealing aesthetic and candy-like taste while also providing health benefits thanks to cannabinoids.
CBD in these edibles is usually in the form of an isolate or a broad spectrum CBD extract. However, you'll also notice multivitamins, turmeric, apple cider vinegar, and other wellness-enhancing elements.
CBD oils are frequently made up of complex formulas that are combined with MCT oil for better absorption. Other classes of cannabinoids, such as CBG or CBN, may be included in these formulations, so it's important to know what's in them and how they match your needs.
CBD Oil vs. CBD Gummies: Bioavailability
The time it takes for you to feel the effects of CBD will also be determined by the product you choose to consume.
CBD gummies have the lowest bioavailability rate, ranging from 10% to 20% (although some report as low as 6 percent) since it travels through the digestive tract before absorbing into the bloodstream. It also frequently loses concentration during the process that might take an hour or two. 
Because CBD oils are administered sublingually, they have a greater bioavailability rate (13 percent to 20 percent). When a few drops are placed on the capillaries under the tongue, these tiny blood vessels expand and speed up absorption, shortening the process to as fast as 20 mins.
CBD Oil vs. CBD Gummies: Duration and Onset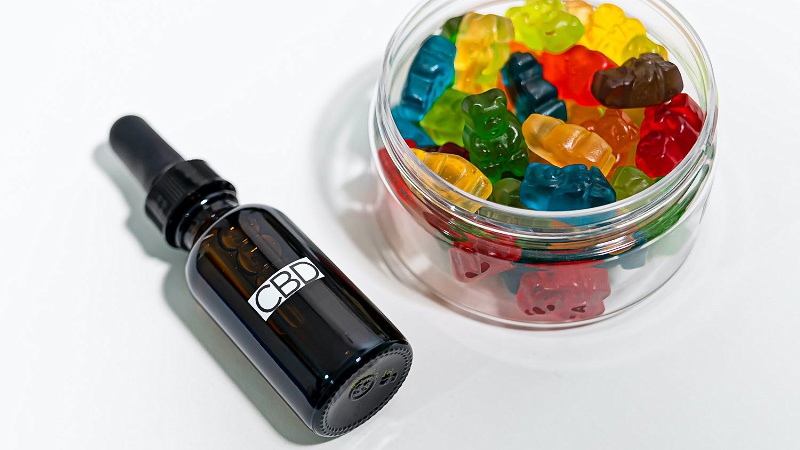 The effects of the two CBD products offer different duration. The effects of CBD oil usually last for about 4-6 hours. At the 1 1/2 hour mark, the effect reaches its pinnacle. On the other hand, CBD gummies take longer to travel through the digestive system before reaching the bloodstream. It may take up to 90 minutes until you notice the effects.
CBD Oil vs. CBD Gummies: Dosage
One of the best things about  CBD gummies is their ability to deliver precisely the same concentration of CBD every time because each bite is pre-measured. In the case of CBD oil, you'll need to use the dropper on the bottle to measure out your dosage. On the other hand, some consumers find the flexibility of CBD oil useful when they need to adjust their dosage.
Learn More: How Much CBD Gummies Should I Eat?
CBD Oil vs. CBD Gummies: Where to Buy
Both forms are available for purchase online and in some retailers. CBD products are outlawed in most online retail chain stores like Amazon, so it is encouraged to buy from direct CBD manufacturers to ensure high quality and legitimate CBD products. Be cautious of hemp extracts that claim to include CBD or give benefits that only CBD can provide — while not including it in its ingredients.
CBD Oil vs. CBD Gummies: Lifestyle Choices
What is best for you will always be determined by your way of life. 
CBD oil and CBD gummies are unquestionably two of the best and handy ways to consume CBD.
CBD Gummies are a great way to start if you're looking to improve your health and wellness. You get broad-spectrum CBD, as well as a healthy blend of vitamins and nutrients in one delightful bite.
While not as convenient as CBD gummies, CBD oils are highly versatile; whether you choose to take a few drops under your tongue or add them to a cup of drink, you may utilize them in a variety of ways.
We all have distinct parameters like age, weight, metabolisms, genetics, and so on. Different products have varied effects on us on a personal basis, so it's critical to choose what you believe best suits your tastes, desired result, and lifestyle.
Final Thoughts on CBD Oil vs. CBD Gummies
CBD oil and CBD gummies are arguably the two most popular forms of this cannabinoid. Both offer a different route of administration, bioavailability, and duration. 
They are suited for different types of users. If you're looking for a fixed-dose per serving and a bit longer-lasting effects, CBD gummies may be a better option. On the other hand, if you aim for dosage precision and higher bioavailability, you may consider choosing CBD oil as your go-to product type.
If you're still uncertain about which one is best for you, try both out for yourself to see which one you tend to favor. Often, trial and error is the key to determining which CBD product will work best for you.