Being widely used for its nutritional content for thousands of years, hemp has proven its great potential to be worth a multiple billion-dollar crop; from being used to make paper, clothes, building materials, ropes, and many more.
As modern time takes advantage of its versatility, we can now find hemp extracts in beauty products, food products, and even gummies!
You've most likely heard of hemp gummies and CBD gummies' controversy, their advantages, and how people are perplexed by how different they are from one another.
The hemp-derived CBD gummies attracted significant interest after the discovery of their medical advantages, as a growing number of individuals seek more natural ways to improve their health.
But can eating these adorable edibles really help?
Hemp Gummies vs. CBD Gummies: What is the difference?
Their active ingredient is what distinguishes the two.
CBD gummies contain CBD or cannabidiol. This active component is seated in the blooms of mature hemp plants. They're found on the flower's surface, which is covered in trichomes. During the extraction process, these crystalline resin glands (trichomes) are broken up to extract thick oily liquid rich in cannabinoids.
The extracted oil is then combined with gelatin or a plant-based solidifier, such as agar or fruit pectin, to create gummies. Typically sweetened and flavored with fruit juices, concentrates, and organic cane sugar, CBD gummies come in many shapes and tastes.
On the other hand, Hemp gummies are made from hemp seed oil. This oil is derived from the seeds of hemp plants, allowing the gummies to be a realistic option for people searching for a fun method to get their essential fatty acids, vitamins, and trace minerals from hemp. Seeds, unlike flowers, are cannabinoids FREE, which means there are no present CBD or THC on the products. 
There are many differences between hemp oil and CBD oil, even their process of extraction. Hemp seed oil is extracted mechanically using a cold-pressing method, whereas CBD oil is typically extracted using CO2 or ethanol. 
CBD gummies are often utilized for medicinal and general health care purposes, and hemp gummies are ideal if you want to elevate dietary deficits.
What are the benefits of Hemp Gummies?
Though admitted to being not as versatile as CBD gummies, hemp gummies have a number of significant health benefits, too, including:
Easier Digestion

Improved skin health
Inflammation reduction
Alleviation of physical discomfort
They also contain high levels of Omega-3 fatty acids. Omega-3, which is well-known for its anti-inflammatory and antioxidant properties, is considered a critical factor in improving cardiovascular health.
What Are the Health Benefits of CBD Gummies?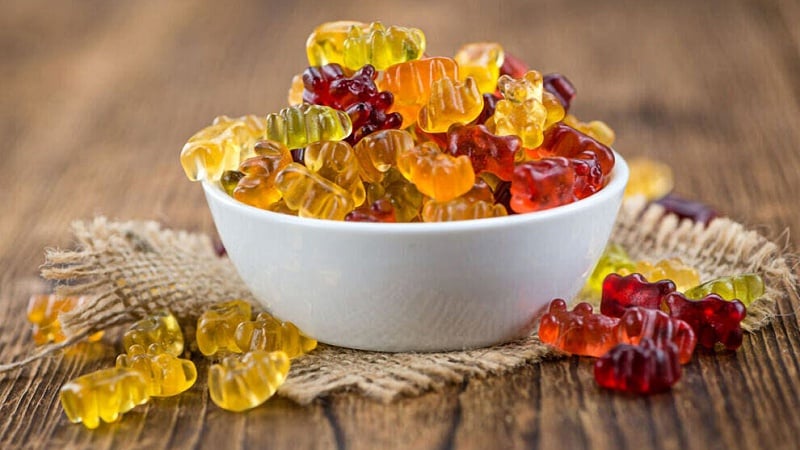 They are known for offering a fun way to reap  CBD's health advantages without swallowing earthy-tasting CBD oil.
Pain, sleep issues, and stress are among the most prevalent health uses of CBD gummies. 
Let's walk through what the scientific findings and testimonies from users say about CBD gummies' essential constituents, cannabidiol, and wellness benefits.
CBD Gummies for Mood and Stress 
CBD has shown relevant benefits to individuals with regular stress and mood problems. CBD gummies make it easy to absorb CBD for anxiety relief.
The 5-HT1A receptor, which is responsible for serotonin reuptake, is activated by these cute edibles. CBD inhibits serotonin reuptake, allowing more serotonin to be accessible to the body, which can improve mood and stress response. Serotonin is a neurotransmitter that regulates emotions such as pleasure, happiness, fear, and anxiety.
CBD Gummies for Relaxing Muscles
CBD is believed to affect the way pain signals are transmitted to the brain. It has also demonstrated remarkable anti-inflammatory properties in many studies. The human endocannabinoid system (ECS), a massive network of receptors, enzymes, and neurotransmitters that work together to maintain the body in balance, has been shown to be the most prevalent cause for people consuming CBD gummies.
This system regulates sleep, memory, mood, pain perception, stress response, immune function, body temperature, appetite, and other functions.
CBD Gummies for Better Focus
Although there is no recorded strong evidence to support CBD's ability to improve focus, there are claims that some are able to concentrate better as these gummies allow them to get just the right amount of CBD, translating into less stress and a calmer state of mind.
CBD Gummies for Good Sleep
You may be familiar with feeling fatigued and unable to concentrate the next day if you have difficulties sleeping. CBD is said to be beneficial to people who have established uncontrollable sleeping patterns
It has been found to have a number of effects on our circadian rhythm. High doses of CBD taken at night, for example, can lower blood pressure briefly, causing breathing to become slower. In that way, you can fall asleep faster and more profoundly than you would if you didn't consume anything at all.
Where to Buy Hemp Gummies and CBD Gummies?
Being widely used for its nutritional content for thousands of years, hemp can easily avail Hemp Gummies in wellness and organic stores near you and online food chains and shopping sites such as Amazon.
CBD's availability, on the other hand, is limited to cannabis dispensaries, vape stores, pharmacies, and selected online stores.
If you want to try CBD gummies, I recommend purchasing them directly from the manufacturer. Most well-known brands have websites where you can purchase CBD products at guaranteed quality and discounts.
Is Consuming CBD Products Legal?
CBD products derived from hemp are allowed on the federal level as long as they contain less than 0.3 percent of tetrahydrocannabinol (THC). CBD products derived from marijuana are in the same boat. Check your state's CBD regulations.
Can CBD Gummies Make You Feel High?
If you're wondering if taking these colorful edibles will get you high, the answer is no. CBD is non-intoxicating because they're derived from hemp, which is almost THC-free.
Hemp Gummies vs. CBD Gummies: Which Is Better?
Honestly speaking, the between hemp gummies vs CBD gummies boils down to your goals with CBD and nutritional preferences. If you're still torn between these two types, consider the reasons why you wanted to give these edibles a shot. 
If you're looking for a tasty way to deliver the nutrients from hemp to your body, Hemp Gummies may be the best option for you, while CBD Gummies may come on top if you want to get a good night's sleep,  ease stress, pain, and elevate mood.
Either way, Hemp Gummies, and CBD Gummies are valuable goods that are great to include in your everyday regimen.