CBD chocolate may soon catch up with CBD gummies as THE favorite treat of health-conscious consumers.
If you're a chocoholic, your mouth is probably drooling on the very name "CBD chocolate." But does hemp really pair with chocolate? Is it a good idea to mix the two ingredients, or is it just some shady trick to lure more people having a sweet tooth?
Will it still taste like chocolate, or will it leave the nasty hemp aftertaste?
We'll answer all these questions in today's article. If you love chocolate, we'll also share our favorite CBD chocolate recipe too.
Okay, drooling is over for now. Let's take a bite of some theory first.
What is CBD Chocolate?
As the name may lead you to expect, CBD chocolate is just chocolate that contains CBD (cannabidiol).
If you're new to the world of cannabinoids, CBD is one of the two major compounds that come from cannabis plants. It is entirely non-intoxicating and highly concentrated in hemp plants, the industrial variety of cannabis. Users claim that CBD helps promote general wellness and is a versatile tool for the management of many health problems.
The most popular way to take CBD is to place it under the tongue in the form of oil drops. This method is called sublingual administration and offers one of the most effective ways to deliver CBD to the body because it doesn't have to pass through the digestive system in order to access the bloodstream.
However, there are several other ways to consume CBD, all of which offer slightly different benefits as well as the onset and duration of effects.
CBD chocolate belongs to the category of edibles. CBD-infused food can mask the earthy bitter hemp taste that many people dislike, which makes them more enjoyable to consume. Gummy bears are the most common form right now, but CBD chocolate is well on their tail.
Brands make a wide range of different CBD chocolates. It comes in pralines, bars, or chunks; you can have milk and dark, and white CBD chocolate made by craft companies and packaged beautifully. Whatever your mood is, you'll probably be able to find CBD chocolate to match your preferences.
Is CBD Chocolate Legal?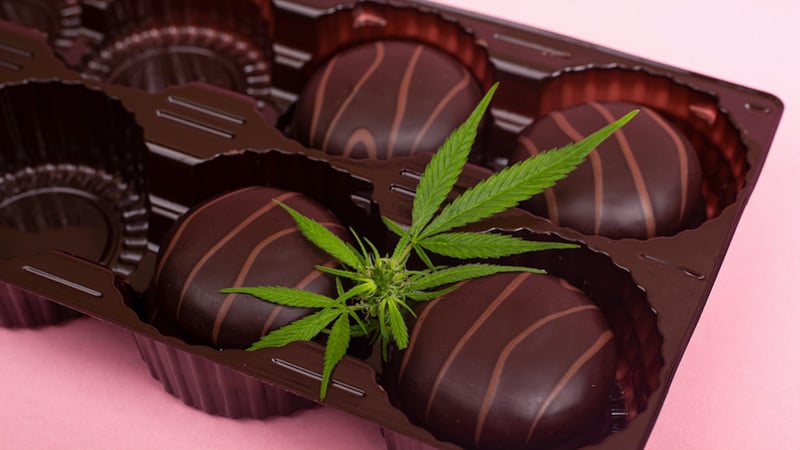 This is a question we regularly get from CBD users. Generally speaking, CBD chocolate is legal in the United States as long as it contains 0.3% THC or less. And since the market is largely unregulated, we urge you to always look for lab reports from third party testing for any product you want to buy. These reports ensure that the THC content in your CBD chocolate doesn't cross the legal amount.
Although CBD is federally legal, the Food and Drugs Administration (FDA) has warned people against CBD edibles, stating that there's not enough research on this subject. That being said, the majority of states decided to ignore those warnings and allow companies to sell CBD edibles such as gummies and chocolate within their jurisdiction.
The only states that decided to follow the FDA's recommendations are Ohio, Maine, North Carolina, and South Carolina. CBD edibles are also illegal in New York City.
Laws surrounding CBD are always a bit cloudy, so it's best to check the regulations in your individual states before buying CBD products.
How to Take CBD Chocolate
While we understand the potential urge to devour the whole bar at once, this is not the point with CBD chocolate.
CBD chocolate can be taken as a health supplement, just like CBD gummies. A chocolate bar is divided into squares; each square carries a premeasured dose of CBD.
Here's a simple calculation:
Let's say your chocolate bar contains a total of 100 mg CBD, with 10 squares per bar. Each square will carry 10 mg of CBD, so if your recommended daily dose is 20 mg, you'll need to eat 2 squares per day.
As we said, the most difficult part about dosing CBD chocolate is resisting the temptation of going all-in with your sweet tooth.
A common concern among CBD users is that edible consumption methods are often inferior to other forms such as oils or vape juice. A lot of the CBD in edibles can be lost in your digestive system, not to mention that it takes longer for the CBD to reach your endocannabinoid system through oral methods.
On the other hand, CBD from edibles is released gradually into the bloodstream, meaning longer-lasting effects.
You can also avoid some of the first-pass liver effects by tucking a chocolate square under the tongue and allow it to dissolve there.
It might not have the bioavailability of tinctures or vapes, but it will still deliver a little higher amount of CBD than if you chewed and swallowed it.
How to Make CBD Chocolate At Home (RECIPE)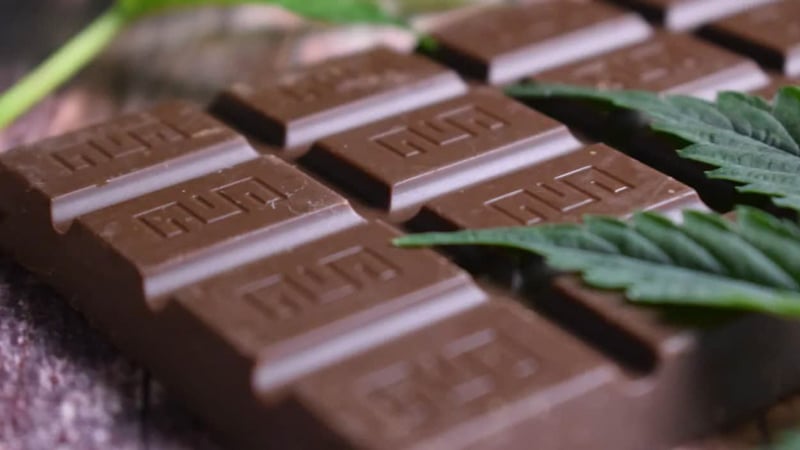 If you're the type of adventurer in the kitchen, making your very own CBD chocolate sounds like an exciting idea to try out. Needless to say, homemade CBD chocolate will be less expensive than the store-bought counterpart, not to mention that you can customize your final product according to your liking by adding other healthy ingredients (more on that later).
Don't worry, making CBD chocolate at home is a straightforward process. It only requires basic kitchen utensils, some chocolate molds, and a little bit of sugar or natural sweetener to better mask the distinctive taste of natural CBD oil.
Follow our CBD chocolate recipe:
Ingredients:
1 cup unsalted butter
1 cup chocolate of your choice (broken up)
½ cup honey
1 teaspoon vanilla extracts
CBD oil (added according to your dosage)
When choosing the CBD oil, you'll need to calculate how much CBD you need based on your regular daily dose. We'll make the chocolate using a baking tin that you can cut into several pieces depending on how much CBD you want in each piece.
How to Make CBD Chocolate (Step-by-Step):
Fill a large pot or saucepan with water, then place a heatproof dish on top, avoiding direct contact between water and the dish. This is how you create a DIY double boiler.
Turn heat to low and pour the butter into the dish, stirring frequently to allow it to melt without burning.
Once you've melted half of the butter, add the chocolate to your double boiler. Keep stirring to prevent burning.
When everything is well combined, take the pan off the heat and let it cool. Keep in mind not to let it harden though.
Once cooled, stir in the honey, vanilla extract, and CBD oil.
Pour the CBD chocolate into a mold, then even it out using a spatula.
Chill in the refrigerator or freezer until solidified, then cut into pieces.
How Can I Make My CBD Chocolate Recipe More Exciting?
Our CBD chocolate recipe is sure to please your taste buds. But if there's at least a tiny bit of perfectionist in you, then you may want to experiment with some extra ingredients to make your chocolate bar even more appealing.
Feel free to mix in some toasted hemp seeds or your favorite types of nuts for a little crunch and extra nutrition. You can also add orange zest to add more pizzazz to the flavor. Sea salt, in turn, will pump up the flavors even more with savory notes.
What Other CBD Edibles Can I Make at Home?
When it comes to making CBD edibles, the sky's the limit. You can make everything from CBD chocolate to gummies, dried fruit, protein bars, and more. Not only that, but you can infuse whole dishes with CBD oil unless you don't expose the CBD to excess heat.
However, if you don't have time for making your own CBD edibles, you can try out some sweet treats available for sale online or somewhere near you. At Royal CBD, we offer THC-free gummies that are made with natural ingredients including sweeteners. Each gummy contains 10 mg or 25 mg of pure CBD (depending on the selected variant) and is sourced from organic, non-GMO hemp. We test the entire Royal CBD collection in a certified laboratory for its potency and safety.
Key Takeaways on CBD Chocolate
CBD chocolate may soon become the next product of choice for all edible lovers. After all, who doesn't fancy a square of chocolate from time to time? If you're not a fan of gummies but still want to benefit from CBD edibles, chocolate is an excellent choice.
If you're unfortunate and CBD edibles aren't allowed for sale in your state, there are plenty of online retailers offering such goods. Or, you could use the above recipe and stock some CBD-infused bars yourself.